On a late November night in 1964, the Fournier family is awakened with news of a tragic accident: their cousin Pat McLaughlin had been killed in a fatal car crash less than a mile from home. Another Boy in a Casket is the thirty-fourth installment of Pat Fournier's memoir, "Memories of a Boy Growing Up in Blackville".
ANOTHER BOY IN A CASKET
Written by Pat Fournier
November 24, 1964 – seventeen years old
I remember the day many years ago when I walked with Dad way down to the end of the Station Road to go to a 'wake house', after a boy had drowned in the Miramichi River.
But I never imagined I'd be going to a wake house just across the road.
And this time the boy in the casket was one of my cousins!
It must have been after midnight, Sunday night, and we were all fast asleep, when we were awakened by someone crying aloud and running down the dirt driveway past our bedroom windows.
"Aunt Thelma!  Oh, Aunt Thelma, Aunt Thelma!"
I recognized the boy's voice immediately.  It was my cousin Michael McLaughlin.  We were both the same age, and we were both in grade twelve at school.  He had run across the road from his house to come get Mom.  Something had to be terribly wrong for him to be running and crying and calling out for Mom in the middle of the night!  Mom hurried out of her bed and flung on her housecoat to meet Michael at the back door.  She had recognized Michael's voice too, and I heard her moan "Oh no!" even before she got to the door, knowing that something terrible must have happened.
When she opened the door, Michael fell into her arms and wept uncontrollably as he sobbed out the sad news that his big brother, Pat, had been killed in a car accident.
Aunt Greta had sent Michael running over to get Mom, knowing that she could depend on her to come be by her side when she needed her.
She and Mom were sisters, and they were very close.  They came from a very large family, and were the oldest of a dozen brothers and sisters.  But what made Mom and Aunt Greta especially close was the fact that besides being the oldest two children in their family, their other brothers and sisters were in fact actually 'half' brothers and sisters, since their father had remarried when his first wife died when Mom and Greta were both very young.  So they shared the same father as my uncles and aunts, but not the same mother.  And in addition to the special closeness they shared because of that, there was also the fact that our families lived across the road from each other, so they got to see each other all the time.
I remember my aunts and uncles too, and got to know that they were all part of a very Christian, happy and loving family.  When they came to visit us, everyone always had a good time.
There was Uncle Cyril, who had an impish smile and always loved a good laugh.  I don't think I can remember a time when he wasn't smiling!
And I recall when Uncle Clinton came to visit us one summer for a few days, with his wife and two sons.  He was a Sergeant Major in the army, and he sure looked it!  He was a big man, and had a big black 'military-style' moustache.  He brought a big army tent with him and pitched it in our back yard, so a couple of us could sleep in the tent so others could use our beds.
I remember too how Uncle Clinton and Dad got along so well, and how they used to joke with each other.  Like the time Clinton, who had a big hairy chest, saw Dad without a shirt on, and he teased Dad about his chest being so bare.  When Dad replied:  "You can't grow hair on steel" Uncle Clinton quickly replied:  "Oh yeah?  What about steel wool?!"  Dad got a great kick out of Clinton's quick come-back!
And Aunt Patricia was always laughing, and she and my brother Johnny hit it right off, and became the very best of friends!  Seems they were always laughing and being giddy about something.
And I recall one time years ago when Uncle Junior came to visit.  He was named after Grampa, so his real name was Lyall, but everyone called him Junior.  I remember that he was trying to sit and have a chat with Mom and Aunt Greta, but me and Johnny and our McLaughlin cousins kept running in the house and interrupting them and begging him to make us more paper airplanes!  And he didn't mind at all, and laughed and got a kick out of us having so much fun with the planes he made.
And we met the other uncles and aunts as well:  Uncles Everett, Tommy, and Gerald, and Aunts Jackie and Lolly.
But I think my favourite uncle had to be Uncle Gordon.  It was probably because he visited often, so I got to know him best.  He was studying to get his accounting degree, and he would often stop in at our place on the weekends for a visit and a cup of tea before he continued on his way back home.  And he always seemed to me to be smiling and in a happy mood.
I remember the time he took Dad's Vauxhall for a test drive just to see how the car handled, and Johnny and I went along with him for the drive.  Well, he drove about two miles up the Main Road, and then turned around to drive back home.  But on the way back, he took his hands off the wheel to check out the car's alignment.  And although the car drove nice and straight on the road without him steering it, he laughed so hard at how I got so scared that the car might go off the road and into the ditch!
So we got to know Mom and Aunt Greta's 'half brothers' and 'half sisters' when they came to visit us, or when we visited them.  And we got to know and love them all.  And while Uncle Gordon was a favourite uncle because I got to see him more often, Aunt Greta's family lived across the road from us, so I got to see and know her best of all too, so she was my favourite aunt.  And I loved her dearly.
And it seemed Mom and Aunt Greta always had something fun on the go!
Like getting dressed up for Hallowe'en.  While they didn't go door to door trick-or-treating, they had some good laughs as they walked down the road with us for a ways.  And I remember laughing when Mom got dressed up one year in a pair of Dad's 'long john's' underwear over her clothes!
Or getting together with some neighbour ladies to go tobogganing on the big hill by the Main River Bridge.  And they came back home laughing like crazy, telling how when they were sliding down the hill Marie MacKenzie's false teeth fell out in the snow!
Or getting some neighbours and all of us kids together to go marching down the road, banging on pots and pans and ringing cow bells at midnight, and shouting "Happy New Year!'.
Or getting all of us kids together to go blueberry picking up at Underwood's field.  Mom and Aunt Greta and all of us Fournier and McLaughlin kids would walk the mile up the dusty Howard Road to the berry field.  The littlest kids would be hauled in their truck wagons, holding on to the buckets that were to be filled with berries.  Mom and Aunt Greta would pack sandwich lunches, with the plan being to spend the day until the pails were filled.  And you could hear shouts of "I'm dumping!" in the berry field every time someone dumped their full picking cup into the pail.
And my golly, the things they did!  I remember years ago, before either of our families had a telephone, the novel idea they came up with to get in touch with each other.  While our houses were fairly close, with Aunt Greta's house being on the other side and just down the road a little bit from ours, neither of our families had a telephone, which would have been handy if they wanted to get in touch with each other.  So what they did was, they each got a cow bell, and when one of them wanted to get together to talk, she would go to her front door and ring her cow bell until her sister came to her door!
I remember Mom kept her bell on a little shelf on the wall by our front door, so when she wanted Greta for something, she'd open the door, step out on the doorstep, and ring the bell:  Clang-clang-clang-clang-clang!  In a minute, Greta would come out of her front door, and they'd either yell back and forth to each other, or they'd leave their houses and meet at the side of the road.
Thinking back on it now, it sounds crazy, but it worked great.  And our families and the neighbours got to accept the ringing of those cow bells as just a normal part of life growing up on the hill in Blackville.
And my gosh, but they had some good laughs!  I remember once when Aunt Greta came rushing in our back door laughing and shouting:  "Thelma!  It's after me!  It's after me!  Shut the door!"  Then she hurried in the kitchen and slammed the door shut, exclaiming that she had farted, and the fart was 'chasing after her'!
Oh my, the fun they had together.  And how they would laugh!
But there was no laughter tonight.
I heard Mom crying aloud, as she ran out the door with Michael, without bothering to take the curlers from her hair or to change from her slippers and housecoat.  "Oh, no! Oh Greta, Greta, Greta", she sobbed, as she ran out of the house with Michael and across the road to be with her sister.
I don't know if any of us were able to get back to sleep that night.  I know Mom didn't.  She stayed up all night with Greta, sitting with her and sharing her grief in having lost her oldest son.
In the morning, we learned the details of the tragic accident.  Pat had driven his girlfriend, Sheila, from her home down on the Station Road back to the town of St. Andrews, where she was taking a college course.  It was assumed that he fell asleep at the wheel on the long drive back home.
The next day's newspaper reported that twenty-one year old Pat "was killed Monday when the car he was driving plunged off the highway about two miles from here and struck a hydro pole".   I might be mistaken, but my memory tells me that the hydro pole he reportedly hit was actually the pile of unused telephone poles – 'The Logs' – just up past the Howard Road.  And his home – Aunt Greta's house – could be seen from those logs.  He was that close to home!
So now, it was Aunt Greta's house that was a wake house.
That evening, after I had my supper, I got dressed up in my best shoes and slacks and white shirt and tie, and put on the nice red fall jacket that Mom had made for me, and walked over to their house.  As I timidly opened their front door, I saw that there were a number of friends and neighbours already there, either standing around in the living room, or sitting on the couch and chairs.  Any conversations between the mourners were muted and muffled.  This sure wasn't the house of laughter and excited talking and good cooking smells that I used to know!
Pat's body had been prepared by the undertaker, and was lying in the satin-lined shiny mahogany wood casket by the front windows in Aunt Greta's living room.  I quietly closed the front door, and went over and knelt on the little padded kneeling bench that was positioned in front of the casket.
Pat lay there in his suit and tie, with his hands clasped together on his chest.  There was no nice smile on his face like we used to see, and his skin had a waxy tone to it.  He sure didn't look like the handsome cousin Pat that I knew.
As I knelt there looking at him and saying a prayer, a man and woman came in the front door to pay their respects too.  So I shuffled over on the little kneeling bench to make space so one of them could kneel down beside me.  But of course they wanted to kneel together.  So after a minute I blessed myself and got up and walked back to the kitchen, and sat down beside Aunt Greta at the table.
Poor Aunt Greta was just quietly sitting there, staring blankly off into space.  There was no laugher or smile, or hardly an acknowledgement that I was sitting near her.  I couldn't imagine what she was going through, and where her thoughts were taking her after losing her oldest son.
My cousin Pat and I shared the same first name.  But while Aunt Greta's Patrick got his name shortened to 'Pat', my 'Patrick' got turned into 'Patty'.  And I disliked that name ever since being challenged about it by my grade one teacher.  So I don't know whether it was that, or that I wanted to liken myself to my cousin Pat, that made me turn to Aunt Greta and quietly ask:  "Aunt Greta, if they put my name in the paper for the funeral notice as being a relative, will you have them spell my name 'Pat' instead of 'Patty'"?
Looking back on it later, I thought about how insensitive that must have sounded to Aunt Greta at the time.  Here she was mourning the loss of her son, and I was concerned about how my name might be spelled in the newspaper!  However, knowing Aunt Greta, I'm thinking maybe she always sensed my discomfort with my name.  I'll never know.  But she looked over at me kindly, gave me a little smile, and said that she would do that for me.
As I sat there, I looked around at the plates of food that friends and neighbours had brought in:  sandwiches and breads and sweets and stews and casseroles.  There were platters and bowls of food all around in the kitchen – on the counter and stove and table – but no one was eating anything.  No one had an appetite for food.  Maybe it would be eaten as time went on, but there was no one eating tonight.
After a little while, I turned to Aunt Greta, and said, "Well, I must be getting home".  She smiled sadly at me and said:  "Ok.  Goodnight dear."
I walked across the road to home, and back to the shed behind the house.  When Dad built our new house after our original home burned down years ago, he built a nice shed where he could stack his firewood, and it included a workshop where he stored his tools, and a 'built-in outhouse'.  And he also built a small playhouse for us to play in, attached at the front end of the shed.
I stood at the side of the shed by the little playhouse, and looked up at the stars.  All the stars and planets shone and twinkled brightly in the pitch black country night sky.  Was Pat now one of those stars in Heaven, I wondered?  I just stood there, looking up at them.  I didn't want to go in the house yet.
I stood there and remembered Pat as he used to be.
I remember watching Pat when he came home one day, as he walked in his yard and stooped and picked up some toys that his little sisters Colleen and Nancy had left out on the lawn.  He was always picking things up and doing what he could to make things neat and tidy around the yard and house, and looking after his little brothers and sisters.
I remember when we were younger, when we'd have a ball game in our back yard.  For bases, we'd place rocks or pieces of board out in the dirt and the grass.  We had a big softball, and for a bat, we used a board that Dad had carved and sanded real nice and smooth.  And when we picked teams, we all wanted Pat to be on our side, because we knew that when he was up at bat, he was sure to hit a home-run ball past the fence and into the woods.
I remember how Pat was so handsome.  He had black hair, and usually had a small 'kiss-curl' hanging down the center of his forehead.  And the way he usually wore his shirt with a couple of top buttons undone, showing off his broad hairy chest.
I remember how he could play the guitar, and liked to sing Tab Hunter's popular song, 'Young Love':
    "They say for every boy and girl there's just one love in this old world
    And I-I-I know I-I-I've found mine;
    The heavenly touch of your embrace tells me no one will take your place
    E-e-e-e-ever in my heart……."
I remember his loud and hearty 'guffaw' of a laugh!  Oh my!  What a great laugh!  And I remembered Aunt Greta being unnecessarily embarrassed after Sunday mass one day, because Pat could be heard laughing out loud in church when the priest told a joke during his sermon!
I remember how strong he was.  When we were younger, sometimes a group of us would go sit on The Logs that were stacked in the ditch just up the road from our house.  The same logs that he would later crash into!  And how he'd challenge us to hold one arm straight out, with a stone held in our opened palm.  And one by one, as our shoulders and elbows ached with the effort, we'd drop our arms in defeat.  He always won!
I remember looking down from our pew up in the balcony in St. Raphael's Catholic Church, and watching as he sat over in the benches at the side of the altar area with the other altar boys, and assisted the priest at Mass.  He looked like a young priest, with his white lace-trimmed surplice top over his black knee-length cassock.
I didn't remember the other boy in the casket at the wake house that I went to years ago.  I didn't even know him.
But I knew the boy in the casket at the wake house across the road.
I remember him.
He was family.
He was my cousin Pat.
I remember him.  I remember him.
And I leaned back against the shed and cried!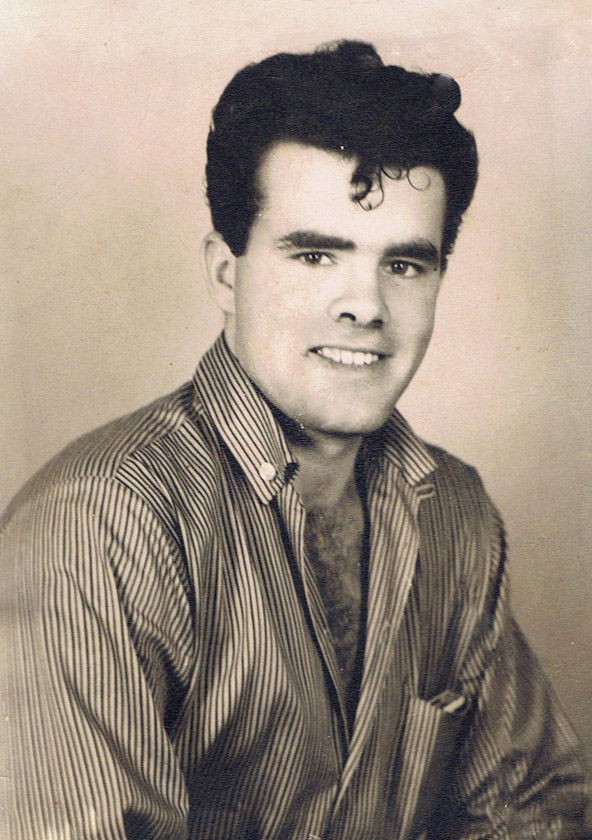 Click here for more installments of "Memories of a Boy Growing Up in Blackville".