The Gerrish House: 163 Main Street
The Gerrish House is a two-storey Edwardian Foursquare residence constructed in the 1920's as home to local business couple Jane (MacRae-Bean) and James Gerrish. The home is situated on the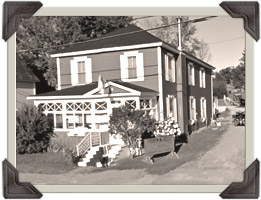 west side of Main Street within the north end business district in the Village of Blackville.
Heritage Value
The Gerrish House is designated a Local Historic Place for its association with local resident and businessperson, Jane MacRae. MacRae, a descendant of a longstanding name in the Village of Blackville, was owner of a nearby storefront within the village and operated it along with her first husband, James Bean, and second husband, James Gerrish. Her matriarchal qualities and her astute business sense resulted in the establishment of a compliment of influential properties within the family merchant business trade.
This residence is also valued for its placement within a grouping of buildings associated with Jane (MacRae-Bean) Gerrish, and is a good example of Edwardian Foursquare design from the early 20th century in Blackville. Built circa 1925, the building's form, massing, roof and windows reflect typical elements of this style.
Jane Craig MacRae Bean married James Gerrish in 1915, 2 years after her first husband James Bean had died.  She gave her former home to her son Simon Bean and James Gerrish and she built the Gerrish House.  Jane lived to be 89 years old.  She operated the Bean Store until the late 1930's, approximately.
Source: Village of Blackville, Village Office Site File# 08-03