Vickers Descendant Seeks Family History
Bruce Vickers, a descendant of the Vickers family of Blackville, is seeking information about his ancestors. He explains below.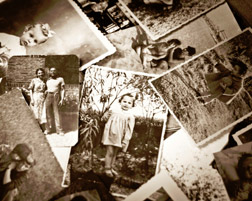 I am trying to trace the facts and story of ANNA MARGARET PORTER, born 04 08 1894, daugther of Jack Porter and Joan Brophey from Blackville, NB.
She had a son with Mr. Albert Mann (from Nova Scotia) named Clayton and left him for adoption by John Charles Vickers and Mary Ann Connel.
She subsequently left for the USA and married Mr. Percy Norman Hill. She was the lease holder of a rooming house of 29 rooms in the city of Portland, Maine USA. She gave birth to a boy named ALLEN HILL. She later divorced PERCY NORMAN HILL.
I am also in search of photographs of my grandfather, John-Charles Vickers (1861-1925) and his wife Mary Ann Connel (1862-1945).
If you have any information about Anna Porter or the Vickers family and can assist Bruce with his research, please email him, beaucage.vickers@gmail.com or contact us and we'll pass it along.