Provincial Government Invests in Blackville Municipal Park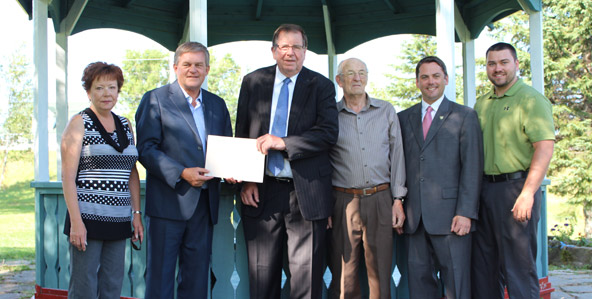 The provincial government, along with the village of Blackville, is investing a total of $80,000 in improvements to the community park.
"Our investment in the Blackville Municipal Park will continue to promote a healthy lifestyle for families and residents of the Blackville area," said Premier David Alward. "Investing in community priorities is an important part of our plan to create jobs and make life better in New Brunswick."
Alward joined Southwest Miramichi MLA Jake Stewart, Blackville mayor Andrew Hawkes and village councillors Cindy Ross and Matt Sturgeon for the announcement.
"We would like to thank the province for their continued support in developing our municipal park," said Blackville Mayor Andrew Hawkes. "This investment will allow us to expand the park, creating maximum enjoyment for Blackville residents and our many visitors, now and for years to come."
Funding of $80,000 through the Regional Development Corporation will be used towards phase two of the project which will include repairing the ball field and boat ramp as well as building a new shelter canopy.
Phase one of the project, completed last year, included the purchase of new playground equipment, signage, landscaping and walking trail upgrades.