New Playground Equipment Installed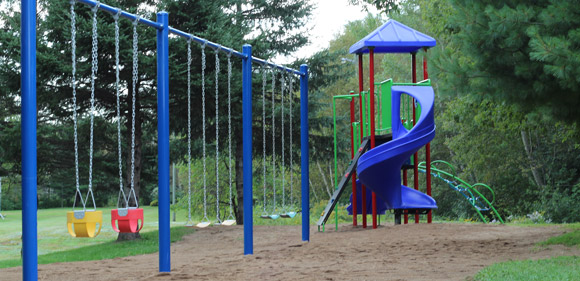 Children in the village of Blackville and surrounding areas are excited about the upgrades and additions to the recreational facilities in the community.
During the first week of September, new equipment was purchased and installed at the Blackville Municipal Park. The upgrades were made possible from funding received from the Province of New Brunswick in August.
The $75,000 investment allowed for the purchase of the new equipment, as well as improvements to landscaping and walking trails and the acquisition of new signs at the park entrances.
The equipment included six new swings and a plastic multiplay-system, that combines an inclined rock climber, rope ladder, curved slide and a sliding pole climber replacing an older treehouse-style wooden structure.
Back in June, the provincial government also invested $15,000 in improvements to the Blackville School playground. Those upgrades were completed over the summer and incorporates one of the most popular pieces of playground equipment out there – a skyrunner, which is a hanging merry-go-round. Two twist climbers and a couple of swift twists round out the upgrades.
The new equipment was a welcome addition to the village and provides countless hours of enjoyment to children in the community. Click an image below to enlarge.
[nggallery id=31]
Related:
Province Investing in Blackville Park
Provincial Government Investing in Improvements to Blackville School Playground