McCormack Descendant Seeks Family History
Fenton McCormack, a descendant of the McCormick family of Blackville, is looking for information about his ancestors.  He explains below: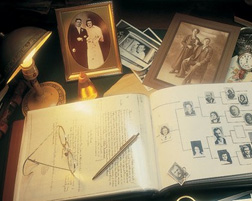 "My father, Fenton D. McCormick (spelled at the time) was born in 1912 to Fenton S. and Mary McCormick (nee McLaughlin) in Blackville. He had a sister by the name of Elizabeth that disappeared in town during the late 1910's or early 20's.
If anyone has any knowledge of that incident or old news articles regarding her mysterious disappearance, please contact me.
His other siblings were named Jane, Mary, Margaret, Pauline, Patrick, Bernard and Lourdes."
If you have any information about Elizabeth's disappearance or the McCormick family and can help Fenton with his research, please email him at fentonmccormack@gmail.com, or contact us and we'll pass it along.