As Father Nowlan retires from serving as parish priest at St. Raphael's, a visiting priest shares a story of faith that strikes a chord with fourteen year old Pat in Jimmy and Jesus, the twenty-first installment of Pat Fournier's memoir Memories of a Boy Growing Up in Blackville.
JIMMY AND JESUS
Written by Pat Fournier
November 1961 – fourteen years old
Father Nowlan retired after serving as parish priest at St. Raphael's Catholic Church for eleven years.  One Sunday we had a visiting priest say mass at St. Raphael's, in advance of our new priest, Father Warner, being assigned to our parish.
I don't recall the name of the visiting priest.  And I don't remember the gospel that was read that Sunday.  But I'm guessing that the priest used the gospel story to relate to the fact that Jesus is forever present in our lives, whether we realize it or not.  Because he told a story that related to that fact, about a little boy named Jimmy.  And I remember the story very clearly:
"Little Jimmy was in grade two, and still learning his reading and arithmetic, in addition to the prayers that his mother helped him with when he went to bed.  His mother was a devout Catholic, and regularly encouraged Jimmy to stop in at the church on his way home from school, to quietly practice saying his prayers there by himself.  Jimmy was obedient to his mother, and eventually his good friends got used to having to wait a few minutes for Jimmy until he came back out of the church.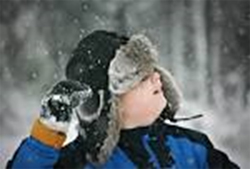 It was snowing heavily one day as Jimmy and his friends walked home from school.  They were having fun catching snowflakes on their tongues, jumping down from the snow banks, and falling backwards in the snow to make snow angels.  When they reached the church, Jimmy shouted:  "Hey, you guys, wait for me, eh?  I'll be right back!"  Then he ran through the big ornate iron gates, up the snow-covered sidewalk, and through the big doors to the church.
Inside the empty church, he caught his breath as he untied the strings to the earflaps on his winter hat and pulled it off his head. Then he hurried down the aisle, knelt down on the kneeling bench in the first pew, and looked up at the ornate altar, and the statue of Christ on the cross.  
Jimmy started to say the Our Father, and then all of a sudden his mind went completely blank!  He simply forgot the words!  And he knew that his friends were outside playing in the snow, and were waiting for him.  So he quickly said:  "Jesus, this is Jimmy", and got up and ran back down the aisle and out of the church.
At the same time that he burst out of the doors of the church and ran down between the banks of snow bordering the church's sidewalk, a fully loaded pulp truck was barreling down the road towards the church.  The trucker, sitting high up in his cab and concentrating to see through the windshield while the wiper blades pushed the falling snowflakes aside, didn't see Jimmy dart out from between the high snow banks piled up by the church gates.  And even if he had seen him, he wouldn't have been able to stop in time on the slippery pavement!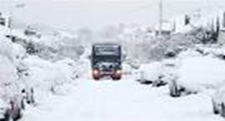 Jimmy ran out to the road, excitedly calling out to his friends.  And just as he was about to run directly in front of the truck, he felt strong hands gently pulling him back by the shoulders.  Then the truck roared by, with snow swirling in its wake.  
Then Jimmy heard a voice whisper in his ear:  "Jimmy, this is Jesus".  
When Jimmy turned around to see who held him back from running in front of the truck, there was no one there."
That story stuck with me all these years.  It still gives me goose bumps.  And I continue to wonder if it was true.
I like to think it was.
Click here for more installments of "Memories of a Boy Growing Up in Blackville".