Team NB announced for 1999 Canada Winter Games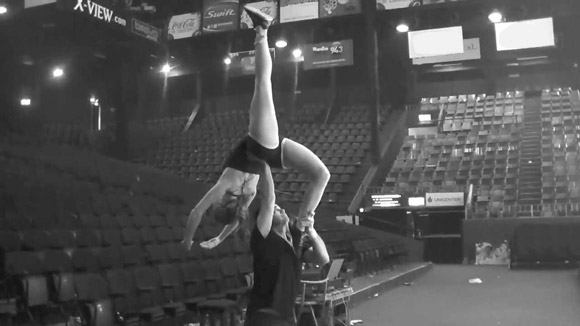 Municipalities and Housing Minister Marcelle Mersereau announced today the names of the members of Team New Brunswick who will represent the province at the 1999 Canada Winter Games, being held in Corner Brook, Nfld., Feb. 20 to March 6. Among the athletes selected is Blackville's own Bonard Muck who will compete in the Figure Skating category.
Team New Brunswick comprises 227 athletes, 55 coaches and managers, and 19 mission staff who will provide administrative support for the event. New Brunswick will compete in 21 sports during the two weeks of competition.
The province will also be represented on the cultural side by three young artists: Emily Bartlett, theatre, a student from Saint John High School; Nathalie Légère, prose and poetry, Polyvalente Mathieu-Martin in Dieppe, and Elizabeth Grant, visual arts, St. Malachy's Memorial High School, Saint John.
"The team spirit that leads to victory is tightly knit, and the athletes are motivated and ready," Mersereau said. "Our athletes are already winners in the hearts of all New Brunswickers. But, the greatest victory for these young people is the unique and rewarding experience of taking part in the Canada Games."
The minister noted that New Brunswick's participation in the Canada Winter Games is made possible through the support of many volunteers, provincial sport organizations, sponsors and parents who have always been there to encourage the young athletes.
The official opening ceremonies of the Canada Games will be held at 1:30 p.m., Saturday, Feb. 20. Competitions begin the following day. In their role as host broadcasters, the TSN and RDS sport networks will televise competitions and other activities surrounding the Games, such as the opening and closing ceremonies. The official Team New Brunswick Canada Games Web site can be found at http://www.gnb.ca/sport/index.htm You can also find the we site on the Communications New Brunswick Online newswire at http://www.gnb.ca/newswire/home.asp
Following is the official list of New Brunswick athletes, coaches, managers and mission staff who will represent New Brunswick at the 1999 Canada Winter Games, Feb. 20 to March 6, in Corner Brook, Nfld.
WEEK 1 – FEB. 20-27
ARTISTIC GYMNASTICS — Nathalie Colpitts, Riverview, COACH; Gary Forbes, Fredericton, COACH; Yvon LeBlanc, Saint-Antoine, COACH; Gary Thibodeau, Riverview, MANAGER; Aaron Mayer, Fredericton; Matthew Lemon, Hampton; Ryan Savage, Fredericton; David LeBlanc, Moncton; Graeme Guthrie, Fredericton; Jennifer Thompson, Moncton; Holly Manzer, Fredericton; Tanya McMahon, Moncton; Josiane Cormier, Moncton; Julie LeBlanc, Moncton; Michelle Gould, Moncton; Kathryn MacPherson, Fredericton.
CROSS-COUNTRY SKIING — Isaac Breau, Charlo, COACH; Louise LeBlanc, Charlo, COACH; Line Beattie, Charlo, MANAGER; Chastity DeGroot, Eel River Crossing; Holly DeGroot, Eel River Crossing; Jessica Beattie, Charlo; Alison MacPhee, Dalhousie; Thera Breau, Charlo; Jean-François Thériault, Saint-Quentin; James Beattie, Charlo; Joshua Breau, Charlo; Mike Smith, Albert; Westley Boucher, Bathurst.
CURLING (WOMEN'S) — Susan McCarville, Saint John, COACH; Samantha Perrin, Welsford; Carol Webb, Grand Bay-Westfield; Kim McDonald, Saint John; Miranda Harnish, Clarendon.
FENCING — Rick Gosselin, Saint John, COACH; Barb Daniel, Fredericton, COACH; Isil Flynn, Saint John, MANAGER; Natasha Kincade, Saint John; Ashley Logan, Saint John; Tiffany O'Donnell, Saint John; Shawn McLaughlin, Saint John; Betsy Grannan, Saint John; David Collins, Saint John; Ryan Hartlen, Saint John; Shawn MacEwan, Saint John; Phil Cooper, Fredericton; Jason Heans, Saint John; Nathan McFarlane, Saint John; Jan Sterniczuk, Saint John; James Grannan, Saint John; Joel Richard, Fredericton.
FREESTYLE SKI — Kevin Vautour, Tide Head, COACH; Heather Cortes, Campbellton, MANAGER; Matthew Parker, Campbellton; Christophe Giroux-Gagné, Campbellton; Jennifer Parker, Campbellton; Jennifer Lynch, Grafton.
HOCKEY (MEN'S) — Brian Whitehead, Quispamsis, COACH; Scott Farrell, Moncton, COACH; Bob Vail, Woodstock, COACH; Norbert Laforge, Grand Falls, MANAGER; Nicholas Bradley, Riverview; Joel Schriver, Woodstock; Jared Hill, Fredericton; David Kennedy, Sussex Corner; Francois LeBlanc, Dieppe; Jules Saulnier, Cap Pelé; Daniel Stevenson, Fredericton; Justin Stewart, Hartland; Chris Boulter, Fredericton; Josh Collins, Fredericton; Marcel Cormier, Cap Pelé; Alain Cyr, Campbellton; Nathan Harvey, Glassville; Edward Kelly, Riverview; Remi Landry, Dieppe; Brett Lutes, Riverview; Jamie McCabe, Dieppe; Matthew McQuinn, Riverview; Adam Savoy, Shippagan; Ben Walton, Hartland.
JUDO — Dino Volpé, Edmundston, COACH; Louise Campion, St-Octave-de-Métis, Québec, COACH, Michael Hetherington, New Maryland, MANAGER, Shawn Beaulieu, Saint-Quentin; Peter Montague, Saint John; Christopher Long, Saint John; Piers Doiron, Saint John; Adam Hounsell, Penniac; Yanick Grenier, Edmundston; Paul Caron, Lac Baker; Yan Martin, Clair; Dale Lemon, Hanwell; Renée Collin, Edmundston; Pamela Lamarche, Saint-Quentin; Shannon Barry, Saint John; Cynthia Blanchette, Saint-Quentin; Pascale Castonguay, Saint-Quentin; Lisa Ouellette, Caron Brook; Marie Claude Michaud, Edmundston; Vicky Nadeau, Clair.
RINGETTE – Paul Pineau, Dieppe, COACH; Kim Keizer, Fredericton, COACH; Stan Howe, Geary, MANAGER; Maryse Bourque, Dieppe; Michelle Doiron, Dieppe; Monica Dupuis, Memramcook; Erin Forbes, Fredericton; Kristen Gaudet, Saint-Joseph; Courtney Griffin, New Maryland; Emily Hobbs, Fredericton; Melissa Landry, Memramcook; Ghislaine LeBlanc, Shediac; Julie LeBlanc, Dieppe; Erin Logue, Geary; Lyne McGraw, Dieppe; Kelly Moore, Noonan; Stephanie O'Leary, Nasonworth; Pascale Poirier, Bathurst; Micheline Saulnier, Memramcook; Tracy Welch, New Maryland.
SQUASH — Allan Reid, Hanwell, COACH; Sandra McDonald, Oromocto, MANAGER; Julia Bailey, Rothesay; Rita Monson, Fredericton; Eva Monson, Fredericton; Gina Perry, Lincoln; Evan Sudul, Rothesay; Bernard Reid, Hanwell; Patryk Reid, Hanwell; Michal Reid, Hanwell.
SYNCHRONIZED SWIMMING — Carol Daley, Pointe-du-Chene, COACH; Pamela Bursey, Saint John, MANAGER; Melissa Young, Saint John; Katherine Bochar, Rothesay; Stephanie Landry, Saint John; Kathryn Russell, Quispamsis; Kathy Welock, Fredericton; Danielle Bourque, Dieppe; Janie Mallet, Moncton; Melissa Hoadley, Moncton, Naomi Doak, Fredericton.
WEEK 2 – FEB. 28 – March 6
ALPINE SKI — Ryan Williams, Sussex, COACH; Andrea Martin, Sussex, MANAGER; Margot LeBlanc, Shediac; Erin Pelletier, Madawaska, Maine; Kristin Pelletier, Madawaska, Me.; Diane Martin, Saint-Basile; Krista Moffett, Penobsquis; Corey Wilmot, Moncton; Andrew Coates, Millbrook; Todd Levesque, Madawaska, Me.; Brian Beaulieu, Madawaska, Me.; Ben Blakney, Gondola Point.
BADMINTON — Jolyn Thériault, Shédiac Bridge, COACH; Bernice Ryan, Bouctouche, MANAGER; Serge Léger, Bathurst; Philippe Bourque, Saint-Antoine; Ryan Légère, Robichaud; Jean-Luc Godin, Beresford; Luc Daigle, Moncton; Julie Léger, Tide Head; Manon Pitre, Bathurst; Nicole LeBlanc, Sainte-Marie; Josée Léger, Bouctouche; Rachelle Dallaire, Bouctouche.
BIATHLON — Lisa Belliveau, Moncton, COACH; Gord Deveaux, Oromocto, MANAGER; Kelsey Bellefleur, Grand Falls; Vicky Whaley, Upper Kingsclear; Rebecca McCance, Oromocto; Annik Levesque, Grand Falls; Lizette Lewis, Salisbury; Nickolas Martin, Geary; Pierre Boucher, Grand Falls; Ted Melanson, Rusagonis.
BOXING — Raymond Doiron, Moncton, COACH; Lorenzo Savoie, Eel River Crossing, COACH; Fred Corrigan, Charlo, MANAGER; Joey Labillois, Eel River Crossing; Patrick Beaudry, Dalhousie; Renaud Mercier, Maltais; Calvin MacKay, Moncton; Gordon McKinnon, Saint John; Ian Gardner, Saint John.
CURLING (MEN) — Jerry McCann, Hoyt, COACH; Andy McCann, Hoyt; Pierre Fraser, Grand Falls; Ryan Porter, Saint John; Brody Hanson, French Lake.
FIGURE SKATING — Lynn Legacy Deware, Moncton, COACH; Yves Bastarache, Moncton, COACH; Linda Morris, Miramichi, MANAGER; Allison Jones, Moncton; Karine Guerrette, Edmundston; Carolyne Forest, LaSalle, Que.; Meaghan McGibbon, Petitcodiac; Coralie Ayer, Hillsborough; Frédéric Allain, Miramichi; Ken Duguay, Tracadie-Sheila; Shawn Sawyer, Edmundston; Douglas Gardner, Hampton; Bonard Muck, Blackville.
HOCKEY (WOMEN) — Hollis Chamberlain, Petit-Rocher, COACH; Jennifer Reicker, Sussex, COACH; Wayland Dickson, Perth-Andover, COACH; Suzanne Levesque, Campbellton, MANAGER; Anik Coté, Grand Falls; Joannie Breau, Haut-Sheila; Cindy Mockler, Balmoral; Manon Laviolette, Charlo; Lacey Hunter, Douglas Harbour; Amanda Boies, Fredericton; Annie McIntyre, Charlo; Catherine Walsh, Blacks Harbour; Guylaine Haché, Petit-Rocher; Hannah Delong, Perth-Andover; Mandy May McIntyre, Charlo; Cara Labillois, Eel River Bar; Tracey Forester, Tide Head; Nicole Bourque, Shediac Bridge; Manon Desrosiers, Charlo; Lindsay Arbeau, Bath; Chelsea Gilbert, Fredericton; Jill MacDonald, Charlo; Stephanie Wood, Saint John; Chantal Légère, Beresford.
RHYTHMIC GYMNASTICS — Dellie Chiasson, Shippagan, COACH; France Haché, Saint-Jacques, MANAGER; Hélène Rousselle, Saint-Martin-de-Restigouche; Madeleine Roussel, Shippagan; Marie Claude Noël, Lamèque; Annie Noel, Lamèque; Rachelle McGraw, Lamèque; Anna-Maude Robichaud, Shippagan; Nina Precoma, Moncton; Sara Jane Vermette, Bathurst.
SHOOTING — Raoul LeBlanc, Saint-Joseph, COACH; Tony Wood, Wood Point, COACH; Stephanie LeBlanc, Saint-Joseph, MANAGER; Amanda Sullivan, Miramichi; Amanda Wood, Wood Point; Emilie LeBlanc, Saint-Joseph; Melissa Bourque, Memramcook West; Nathan Wood, Wood Point; Christopher Novak, Sackville; Joey Murphy, Barnaby River; Chad Westrup, Saint-Joseph.
SPEEDSKATING — Peter Steele, Norton, COACH; Debra Fisher, New Maryland, COACH; Gary Pollock, Saint John, MANAGER; Vicky Anderson, English Settlement; Jennifer Gaudet, Riverview; Katie Hurley, Fredericton; Katelyn Nickerson, Saint John; Jessica Steele, Norton; Vicki Scholten, Fredericton; Lindsay Walker, Fredericton; Katie Reynolds, Saint John; David MacLean, Saint John; Graham Cole, Fredericton; Jeffrey Scholten, Fredericton; Peter Walker, Fredericton; Jean-François Brideau, Caraquet; Travis Jayner, Riverview; John English, Montréal, Que.; Bryan McSorley, Fredericton.
WHEELCHAIR BASKETBALL — Brian Lawrence, Saint John, COACH; Michael Doucet, Saint John, COACH; Karen Ferguson, Saint John, MANAGER; Paul Bourque, Dieppe, AID; Jordan Hunter, Boiestown; Robbie Cameron, Moncton; Jamie Thibault, Moncton; Gary Kingsley, Saint John; Daniel Melanson, Moncton; Bob Stultz, Dorchester; Joey Boudreau, Shediac; Martin Bourque, Dieppe; Andrew Miller, Saint John; Christine Henderson, Saint John; Geneviève Fournier, Edmundston; Sean Simpson, Welsford.
MISSION STAFF — Suzanne Coffey, Rusagonis, CHEF DE MISSION, Marie-Claire Pierce, New Maryland, ASSISTANT CHEF DE MISSION; Bonnie Buckingham, Fredericton, MEDIA LIAISON; Benoît Lanteigne, Fredericton, MEDIA LIAISON; Jamie Pollock, Moncton; Pierre Vaillancourt, New Maryland; Mike Lushington, Dalhousie; Jane Marshall, Miramichi; Kathy MacFarlane, Fredericton, Sport New Brunswick; Ellen Boone, Fredericton, Sport, Recreation and Active Living Branch, Municipalities and Housing (SRAL – MH); Steve Harris, Fredericton, (SRAL – MH); Allen Bard, Nasonworth, (SRAL-MH); Nelson Michaud, Dalhousie; Bob Kierstead, Fredericton; April Brewer, Burtts Corner; Marg Atkinson, Rothesay; Jackie Benoit, Campbellton; Mike Soucy, Campbellton; Gary Thorne, Edmundston.