Sisters Bring New Life to Old Trinity
How did an old country church from Blackville become known as the oldest chapel in Oklahoma?
Old Trinity Anglican Church was built in 1842 in Blackville, New Brunswick. Constructed in the Gothic Revival Style, it was complete with pointed arched windows and doors serving the community continuously for more than a century.
A new church, Holy Trinity, was built in the village in 1970 to meet the needs of the growing population. Old Trinity was still used for memorial services.
In 1991, the Canadian government declared Old Trinity a provincial historic site. However, time and weather took its toll on the little church and the original bell tower began to pull away from the main body. The building was deconsecrated in 1997 and dismantled by Renovator's Resources, a Halifax based company that salvages old buildings.
Tom Lee, photographer and entrepreneur, discovered Old Trinity on the internet and bought it sight unseen. Soon Old Trinity found a new life, arriving in the Paseo Art District in Oklahoma City in November 2000. The two flatbed trucks carried 17 wall sections, 2 entries, 3 gables, 8 original stained glass windows, and 6 gothic doors. These pieces were reassembled to give new life to the old church in 7 months. Only the original bell tower did not survive and was replaced to complete the original exterior.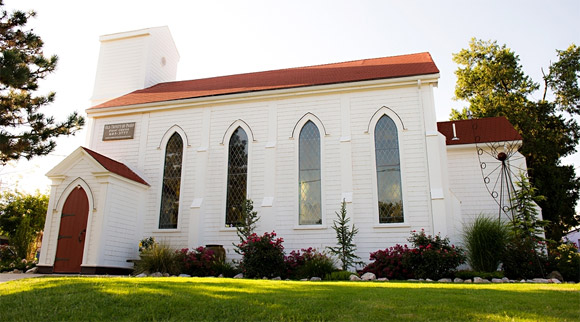 The truck drivers who delivered Old Trinity reported that their great grandfather had donated the land upon which the church had been originally built. The land where it now resides also had never been built on. Father Dale Petley of All Souls Episcopal Church in Oklahoma City began his ministry at Old Trinity in Blackville in 1982 and was present at the completion of the church. Old Trinity faced east-west in Canada and was rebuilt to face east-west in Oklahoma City. Some things are meant to be.
In October of 2007, Tom Lee had to sell his beloved Old Trinity to pay for his ongoing medical expenses. A friend in the neighborhood bought Old Trinity.  The church is now used as a wedding chapel, Simply Sisters Weddings, operated by Amy and Sara McCord.