New Fire Hall Design Unveiled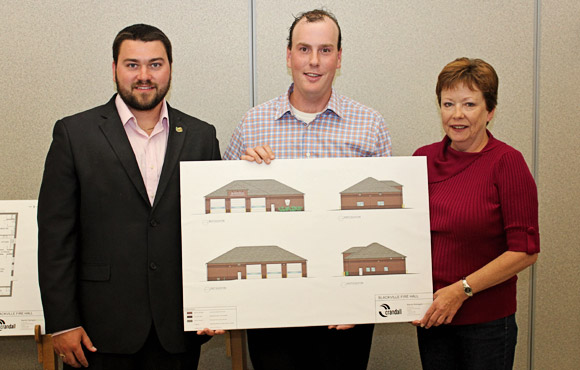 At a public meeting held earlier this week at the Blackville Community Centre, representatives from Crandall, along with Mayor Matt Sturgeon and Councillors Cindy Ross and Christopher Hennessy, unveiled sketches and blueprints of the new fire hall. Village clerk Kurt Marks was also in attendance.
The meeting, led by Mayor Sturgeon and Crandall's Pierre Plourde, was well attended by members of the community and members of the Blackville Fire Department.  The building's design includes three drive-through truck bays, an office, meeting room, kitchen, two washrooms, maintenance rooms and storage/gear areas.
The project goes out to tender soon. A public notice will be released in the coming weeks. Construction is expected to begin in November with a completion date of June, 2014.
Crandall Engineering Ltd., which offers complete engineering solutions for Municipal Services, is overseeing the project, designed by Sackville architect Martin Patriquin.
Click a photo to enlarge.
[nggallery id=30]