Memories of War Video Series Now Available on DVD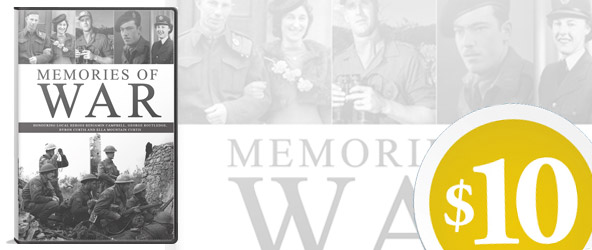 In late January, I was approached by the Blackville Women's Institute and asked to participate in their Heritage Day celebrations.  Heritage Week is celebrated in communities throughout New Brunswick each year. This years theme was New Brunswick Remembers: 1914-2014, in commemoration of the 100th anniversary of the beginning of the First World War and the 75th anniversary of the outbreak of the Second World War.
As part of the celebrations, I filmed video of local veterans and their children sharing stories of war and the impact it had on their lives and the lives of their families.
The three episode series features Helen Jardine sharing memories of her father Benjamin Campbell and his sacrifices during World War II, Canadian Peacekeeper George Routledge recalling his time spent serving in Cyprus, and Patricia Curtis recalling memories of her parents Byron & Ella Curtis' time spent in the armed forces during the second world war.
The complete series is now available to purchase on DVD for the first time. Total runtime is 25 minutes, including a bonus video performance of Another Soldier Down by Pastor Albertine LeBlanc. DVD's are $10 each and can be purchased online below, or by calling Les at 623-8526.