Fogan to Receive CWL Life Membership
Saint Raphael's Roman Catholic Church in Blackville is pleased to announce that parishioner Marion Fogan will be receiving her Life Membership in the Catholic Women's League.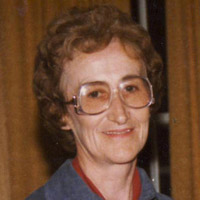 Marion will be receiving her award at the Diocese of Saint John's Catholic Women's League Annual Convention being held in Fredericton on May 5, 2012. Marion, who is currently President-Elect in the Provincial CWL, is the first Saint Raphael's parishioner to receive this award.
Marion has been actively involved with St. Raphael's Church as a religious education teacher for thirty-two years, lector at Mass, and has assisted in various other capacities. She joined the CWL in 1964, where she was president of her council many times over. She has also served as President of the Saint John Diocesan Council, Recording Secretary, and in most chairperson positions at the Parish and Diocesan level as well as being Education, Communication, and Spiritual Chairperson at the Provincial level. She will become president in June 2012.