Locals Featured in Fishing Series Shorelines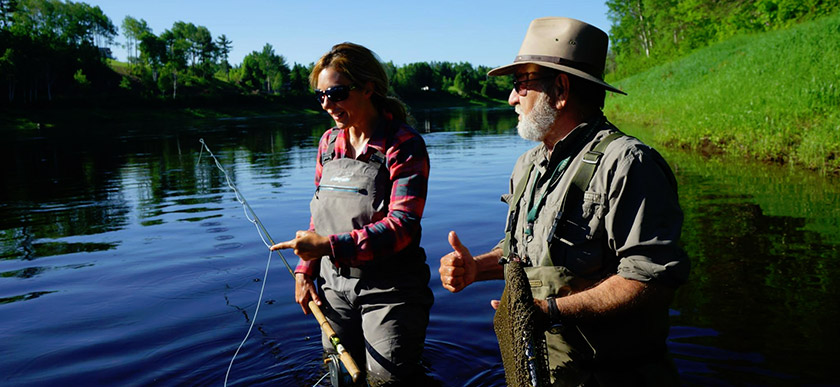 In June, 2014, fly fishing personality and author April Vokey visited the Miramichi to film Shorelines, a series that documented her journey about a book she was writing centered on steelhead and Atlantic salmon fishing. The series later began airing on the World Fishing Network in January, 2015.
Episode two of the series, entitled Where it all Began, featured April tracing the roots of Atlantic salmon fishing in North America, and brought her and photographer Catherine Laflamme to the Maritimes and our famed Miramichi River. April connected with veteran guide Gary Colford of Country Haven Lodge in Blackville on a quest to better understand the Atlantic salmon culture. She also visited the Atlantic Salmon Conservation Centre with Mark Hambrook.
"A huge part of this show is understanding the history of our sport and I am excited to share more about what happened in this unique part of the world." April Vokey said at the time of filming.
The crew later returned to film another episode of the series in the fall of 2014.
Click the link below to watch episode two, and keep an eye out for some other locals who are featured.
http://www.worldfishingnetwork.com/shows/shorelines/watch-full-episodes