Local Doctor Brings Aid to Haiti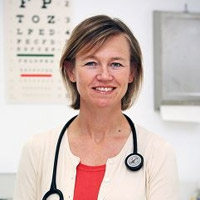 Tiffany Keenan hadn't even reached her teen years when her piano teacher Margery MacRae saw in her the making of a humanitarian.
"She always said 'Tiffany, I think you are going to be a missionary some day' because I always liked [to dream of] travelling and it's funny because I had never travelled as a kid.
"I am from a very, very small village in Canada, but I don't know I guess she just saw that in me. She definitely gave me some drive to go forward."
Dr Keenan, an Emergency Room physician at King Edward VII Memorial Hospital, has taken part in volunteer medical missions in the Congo and Haiti.
Over the past six years, she has been instrumental in setting up a medical clinic in Jacmel, Haiti that services more than 6,000 people a year.
She was born and raised in a small town with a population of around 1000, near Miramichi, New Brunswick.
As a youngster, Dr Keenan always had the desire to travel, but her parents didn't have the financial means.
At age 15, she had spinal surgery to treat scoliosis — it was during her time in hospital she decided to become a doctor.
"It was just the care of my physician, he was such a great doctor and he was just so good and so kind. I needed to have that surgery because it was a corrective surgery and I just thought 'I want to be like him, kind to patients and try to be able to fix people'."
Unlike most of the 32 other students in her high school graduating class, Dr Keenan chose to study further afield — McGill University in Montreal.
"For me, I wanted to be a little bit different and get out and explore a little bit. And when I went to Montreal I was exposed to different cultures and people from all over the world."
She became the first person to graduate from her high school and become a doctor.
In 2006, after establishing her medical practice, Dr Keenan decided to get involved in international volunteer work. She learned of a project taking place in poverty-stricken Haiti and ventured to the Caribbean nation for the first time.
"I just fell in love with the people," she said. "I realised that Haiti was a country in great need. You know, it's the poorest country in the western hemisphere."
She returned in April of that year and found out about a group of Canadians who were building a school and medical clinic in the area.
She met with people from the Canadian organisation Haiti Village Health that summer and started working with them and other health clinics in surrounding village areas.
"I spoke to the Department of Health and told them I was working to bring some healthcare and so we proceeded," she said.
"The first team I took down was in February 2007, so for the first year we took down short-term mission teams that would stay for about two weeks and we would do general outpatient medicine.
"On the first trip we had 15 people, then we started gradually to raise money for the medical clinic."
The clinic was built just under 18 months later, in June 2008. They hired a Haitian nurse and doctor and opened the clinic doors five days a week.
She said the project has been a labour of love.
"Most definitely it has brought a greater sense of purpose to my life. I look at all the different aspects of [medical] care we have but volunteering [is] a very different aspect when you feel you are giving something beyond yourself for no financial gain and it really completes my balance wheel."
The task hasn't been easy. Dr Keenan was initially spending ten weeks a year on ground in Haiti. After the devastating earthquake in 2010 she started helping out for nearly four months out of the year.
"It's very difficult. It's difficult because Haiti is really a second full-time job for me. We have a general medical clinic, we have 16 staff on the ground, and to manage those staff requires a lot of telephone calls and visits to the country."
She has also reached into her own pocket to keep the clinic running when fundraising dollars have fallen short.
In order to ease the strain, Haiti Village Health is currently looking for an in-country staff member to help oversee and manage the clinic.
It's often hard to assess the impact volunteers make in the lives of those they are helping, but Dr Keenan is proud of the progress she's seen.
"Sometimes you get busy and carried away with work and doing things, and I am definitely guilty of that. People have said to me about Haiti 'You need to just slow down, realise what you have done and just look at the people you have helped'.
"Because as a manager it's easy to get caught up with what's going wrong instead and not look at what's going right. My last trip in Haiti … it was so busy.
"But one day I said 'look at the children playing' and 'look at the village. They are healthier than when I came here six years ago'; so those are the moments I take to reflect back. When they call you 'Momma Tiffany' it is nice to hear, so I just have to enjoy the moment a little more."
Dr Keenan hopes that the clinic will be self-sustaining by 2015. She said the overall goal has always been to hand it over — either to the Government or to an organisation in the country that can run it independently.
Haiti Village Health has trained local staff and implemented educational programmes to teach villagers about proper water and sanitation techniques to prevent illness.
"Really that is what I have always said, we are not about Band-Aid treatments, but long-term sustainability," said Dr Keenan.
When her schedule does ease up a bit, Dr Keenan hopes to get back to some of her hobbies, like travelling, kayaking and playing the piano. She is also keen to start mentoring and is currently helping someone in the United States who wants to start their own clinic.
"I have limited spare time. Actually now that this country manager is coming, hopefully by the fall, that will free up some of my time. One of the goals is to play my guitar on the beach. I haven't done that yet."
Written by Nadia Arandjelovic as posted in The Royal Gazette Online, Bermuda's most trusted source for news and information.
For more information about Tiffany's cause, please visit Haiti Village Health at www.haitivillagehealth.ca.
Photo by Akil Simmons.