Jason Curtis to be Inducted to Salmon Museum Hall of Fame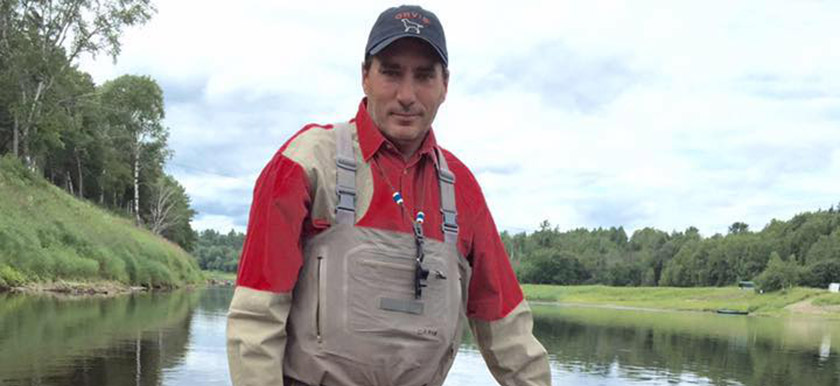 The recipients for the 32nd Annual Atlantic Salmon Museum Hall of Fame have been announced, and Jason Wayne John Curtis of Keenan is one of this years inductees.
Jason Curtis, one of the youngest inductees in the history of the Hall of Fame, has been professionally involved with salmon and salmon conservation since the age of 18 when he began work at the Old River Lodge. Since then, he has gained a well-deserved reputation as a guide par excellence, a dedicated conservationist, and an enthusiastic educator having been one of the founders of the Fly Fishing Club at Miramichi Valley High School and a long-time volunteer with the Miramichi Salmon Association. Jason will be inducted at a ceremony held on October 3.
Since 1983, the Atlantic Salmon Museum and its Board of Directors have sought to honor those men and women whose lives have demonstrated a profound respect for salmo salar, the Atlantic salmon. The valuable contributions made by these individuals – be they anglers, guides, fly tyers, conservationists, authors, educators or artists – comprise a special component of the museum collection.
Each year the enormously popular Hall of Fame Induction Ceremony and Dinner is held in Doaktown at which time new inductees are officially introduced. The event will be held on Saturday, October 3 with tickets now on sale for $75.00 per person (tax receipts available upon request). The full list of 2015 inductees are:
JASON W. J. CURTIS
Blackville
Guide / Outfitter / Educator
JOHN WILLIAM HAWKES (Posthumously)
City of Miramichi
Angler / Educator
DOUGLAS RAYMOND MACDONALD
Moncton
Angler / Conservationist
WILLIAM ROBERT MACKAY
Hayesville
Guide
EVERETT ALEXANDER MOIR (Posthumously)
Hayesville
Guide / Outfitter
For further information or to purchase tickets please contact the Museum at (506) 365-7787.