Holy Trinity Anglican Church Holds Parish Confirmation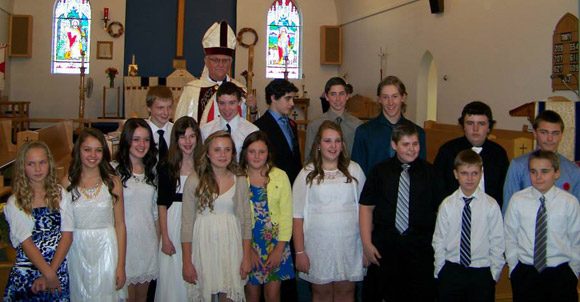 On Sunday, November 3, seventeen young people celebrated the Sacrament of Confirmation at Holy Trinity Anglican Church in Blackville.
The Most Reverend Claude W. Miller, Archbishop of Fredericton, led the service alongside Father Gerry Laskey.
The newly confirmed candidates were Hannah Manderville-Comeau, Gregory Flett, Megan Peterson, Morgan Peterson, Jacob Clarke, Hannah Colford, Lesley Jardine, Jordan Underhill, Joshua Underhill, Ethan Vickers, James MacWilliams, Hailey Tucker, Mark Jardine, Drake Nowlan, Sarah Kelly, Laura Kelly and Chad Curtis.
A reception hosted by Holy Trinity Anglican Church Women was held following the Liturgy at Trinity Hall.