Former Blackville Anglican Rector Becomes Catholic Priest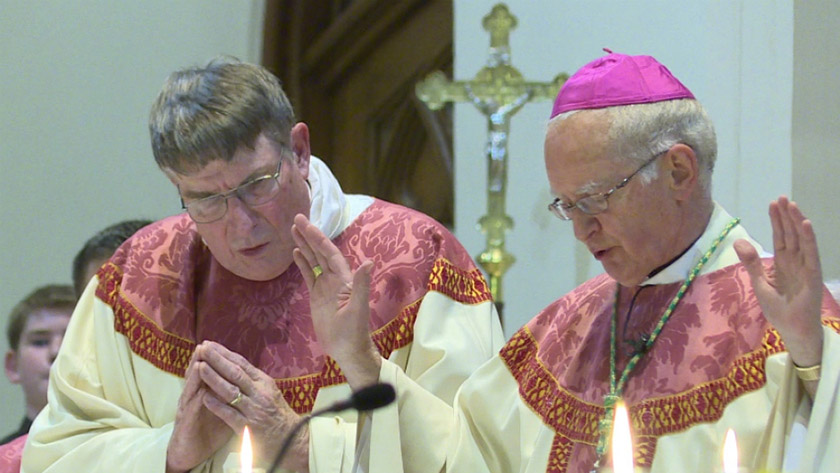 The number of Catholic priests in Canada has fallen sharply in recent decades, so any ordination is a rare event.
But Friday's example of the sacrament in Saint John was particularly unusual — because the new priest was surrounded by his wife, children, grandchildren and great-grandchildren.
"It's something that I've wanted to happen for a number of years and it's finally happened," said Father Richard Harris. "It's a great privilege and a great responsibility too."
Harris wiped away tears of joy as he was ordained by the Bishop of Saint John, surrounded by his large family, including his wife Maggie.
Harris began his career as an Anglican priest 41 years ago and worked in Newfoundland and New Brunswick. After he retired in 2003, Harris and his wife converted to Catholicism together, before he began the process of becoming a Catholic priest.
"It takes a mutual vocation. If God is calling the husband, he must also be calling the wife to a complementary role," said Maggie.
Harris said he preferred not to discuss his exact reasons for converting, other than saying Catholicism provided a more solid ground.
Harris said he doesn't want his case to set a precedent, as he respects the continued celibacy of Catholic priests.
"It is a tremendous privilege to know that Pope Francis has allowed this to be," he said.
Harris is 76 and will not serve as a full time priest, but as a regional mentor for other who wish to convert as well.
According to the diocese, there are only 80 priests in North America who have made the same conversion as Harris.
Father Harris was once Rector at the Anglican Parish of Derby and Blackville.
Original post: http://www.cbc.ca/news/canada/new-brunswick/father-richard-harris-converts-from-anglican-priest-to-catholic-1.3225674