Drive 4UR School Raises $4,400 for BHS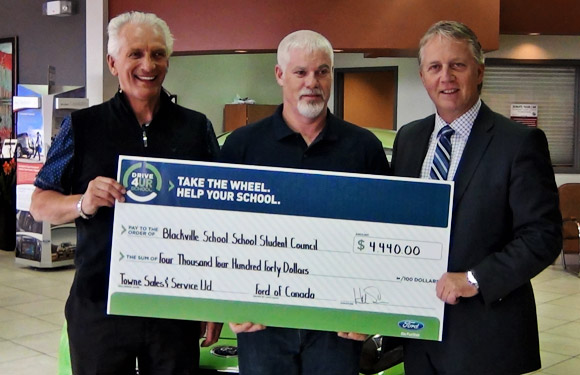 Late last Spring, the local school student council, along with Towne Ford Sales & Service Ltd., hosted a Drive 4UR School fundraising event. For every test drive taken at Blackville High School, Ford Motor Company donated $20 for the school to use on various activities and learning opportunities. In total, 222 people participated in the fundraiser.
Recently, Towne Ford salesman and former Blackville resident Terry Hambrook and Owner/President Hal Somers presented a cheque for $4,440 to Blackville School teacher Tim Grattan; a great way to start the new school year!
To learn more about the Drive 4UR School program, visit their website at www.drive4urschool.com. For more information about Towne Ford Sales & Service Ltd., go to www.TowneFordNB.com.