Community Rallies Together After Crippling Arthur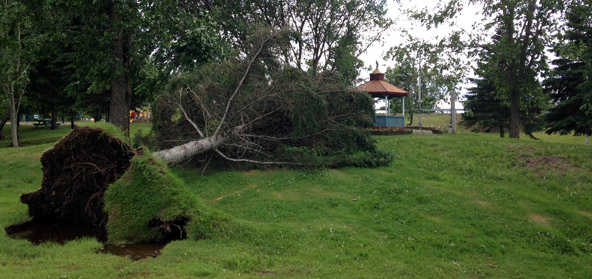 Days after Tropical Storm Arthur swept through the region, the village of Blackville and its surrounding communities are pulling together to clean up after the storm that crippled much of the area. Heavy rain and damaging winds knocked out power early Saturday morning. Although power was restored in much of Blackville on Sunday evening, there are still many who have no electricity or water. Our community is well known for rallying together during times of need, and this time is no different.
The village of Blackville has setup a relief station and is offering free bottles of water for those without, and the opportunity to charge up electronic devices, laptops, phones, etc. The village office is open from 8:00am to 5:00pm.
Southwest Miramichi MLA Jake Stewart has opened up his office for those currently without power.  His office, at 137 Main Street in Blackville, will be open all week from 8:30am -4:30pm and includes a washroom facility including shower. Call Susan at 843-7729, or simply show up at the office.
Today, Tuesday, July 8, there will be a free-for-all roast beef supper at the Father AA McKinnon Memorial Hall, 105 Main Street, from 4:00pm to 6:00pm. The meal, sponsored by Jerry Stafford and Valu Foods, and prepared by volunteers, is open to anyone who would like a hot meal.
Here are some photos of the storm aftermath. Click an image to enlarge.