Community Rallies to Rebuild Shelter Destroyed by Fire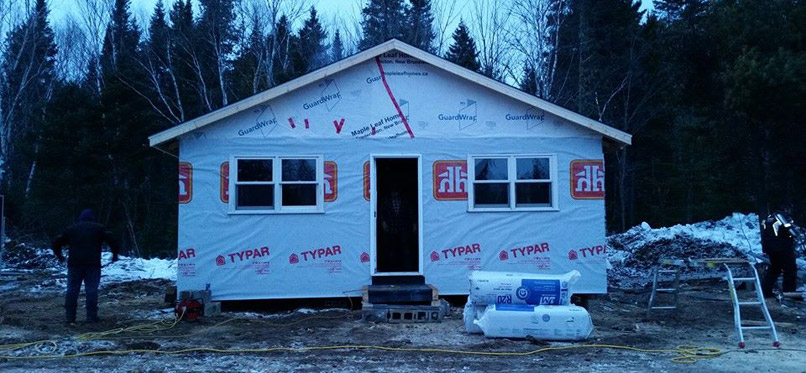 In mid-January, a warming hut on the Dungarvon River, Trail 58 between Blackville and Doaktown, was completely destroyed by fire. The Mitchell Brook warming shelter had been used by many snowmobilers and other outdoor enthusiasts.
Chris Hennessy, president of Miramichi Snowgoers Club 22, and a Blackville village councillor, said that the structure burned down sometime overnight on January 17. While the cause of the fire was unknown, it is believed that it may have been started from an old stove that was used inside the building.
The shelter's primary use was to give warmth to those who explore the great outdoors during the winter months and also acted as a gathering place for the club.
Upon hearing news of the destruction, the community worked together to build a new and improved shelter. With donations of lumber, materials and labour by several local businesses, and with the help of many people from the club, the new shelter was constructed over a two day period.
The new, bigger shelter holds up to thirty people and has a built-in wood shed.
Hennessy says that following the fire, he was approached by Mike Beers, a Rexton contractor who wanted to help rebuild the hut.
Beers' sons, Ryan and Jesse, also brought with them all the tools and equipment necessary for the build. Hennessy said this donation of time, labour and resources was very much appreciated, and he wanted to express his gratitude on behalf of Miramichi Snowgoers Club 22 to the contractor and his sons. He said the club's appreciation is also extended to everyone who came out to help with the project.
"It was great to see and we really appreciated it. It was pretty heartwarming," he said, noting his club has a membership of approximately 300 people.
The hut is a major asset to those who partake in outdoor activities, and is available to anyone who passes by.
The grand opening of the new Mitchell Brook shelter is Saturday, March 14.