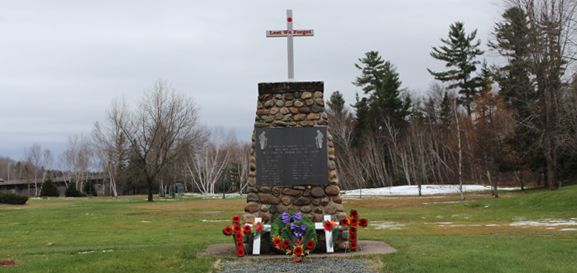 Nearly two hundred people attended the Remembrance Day ceremony held at Blackville School this morning. The crowd erupted in applause as soldiers from the Canadian Forces School of Military Engineering at CFB Gagetown in Oromocto entered the school gymnasium.
The ceremony began with Royal Canadian Legion Branch #49 President Boyd Underhill welcoming the crowd, followed by the singing of "Oh Canada" led by Father Gerry Laskey of Holy Trinity Anglican Church. Father Joseph Okoko of Saint Rapheal's Roman Catholic Church followed with an opening prayer. Branch #49 Secretary Gary McLaughlin read the honour roll to pay tribute to those who died in the war or have passed away since demobilization. Attendees then stood for a playing of The Last Post and one minute of silence.
Piper Winston Curtis continued with Flowers of the Forest. Southwest Miramichi – Bay du Vin MLA Jake Stewart recited In Flanders Fields and personal remarks, followed by the laying of the wreaths.
Legion Padre Father Laskey offered a prayer for peace. Voice of Hope Ministries Pastor Albertine LeBlanc and daughter Chelsey performed an acapella version of Another Soldier Down. The reading of the names of people and businesses that purchased wreaths in memory of loved ones or fallen comrades was performed by Patricia Curtis. Brother John Beach of New Life United Pentecostal Church offered a prayer for youth, followed by the closing prayer and benediction by Father Laskey and Rev. LeBlanc respectively.
Father Laskey then led the crowd in the singing of God Save the Queen. Gerald Hallihan closed the ceremony.
Participants involved in the service were then invited to Father AA McKinnon Memorial Hall for lunch served by members of the Legion and local volunteers. As in previous years, soldiers were then invited to the Blackville Fire Hall for refreshments and to socialize.
To read more about our local heroes and to watch video, click here to visit our War Veterans archives.