Blackville Man Running for NDP in Federal Election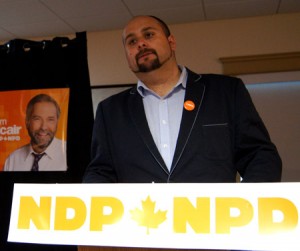 Patrick Colford from Blackville will run as the NDP candidate for Miramichi-Grand Lake in the 2015 federal election, kicking off his campaign last Saturday night at the nomination convention.
"People need to remember in this room and across Miramichi and everywhere that the people are the government. The politicians do work for us and not the other way around. And we need to ensure we have a strong voice in Ottawa that will work for the people of Miramichi-Grand Lake."
Colford previously ran in 2011, where he turned in an historic result for the NDP as he finished second behind incumbent Conservative Party MP Tilly O'Neill Gordon. At that time, he took 23.06 per cent of the vote, despite spending only $3,027.50 compared to O'Neill Gordon's $65,248.98.
The NDP candidate will take on O'Neill Gordon again this time around, and Colford said he is ready for the challenge.
"I'm here because they are trying to eliminate our voice. They're trying to discredit us, they're trying to sensitize us and they're, quite frankly, they're trying to de-fund us, they're trying to defund us, they're trying to de-fund the Miramichi River and we can't let this happen," he said.
According to the latest polls, Tilly O'Neill Gordon holds the lead in Miramichi-Grand Lake at 37 per cent support. The NDP, prior to Patrick's nomination, sat at 31.2 while the Liberals are third at 28.4 per cent.
The NDP confirms that Colford, the only declared candidate in Miramichi-Grand Lake, could be acclaimed within a couple of weeks, if his bid goes uncontested.