Blackville Fire Hall Grand Opening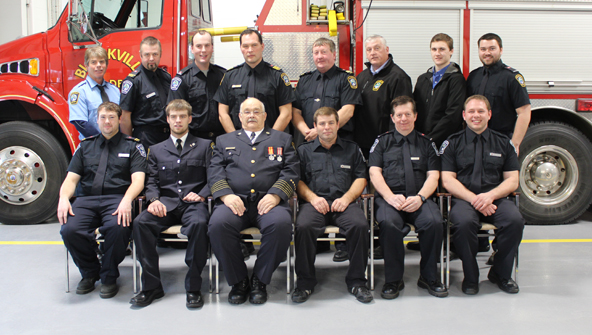 The grand opening of the new Blackville Fire Hall took place this past Saturday, December 13 at its new location at 54 Main Street.  Mayor Andy Hawkes welcomed the group of about one hundred, and acted as the master of ceremonies. Christopher Sturgeon recited the firefighter's prayer, and Jake Stewart, MLA for Southwest Miramichi / Bay du Vin, followed by congratulating the community on their new building. Doug Stevens, project manager of Rice Contracting Ltd. and Pierre Plourde, Partner of Crandall Engineering Ltd., were also on hand for the ribbon cutting ceremony.
The $1.7 million dollar building replaces the former hall at 135 Main Street, which has been in poor condition for the past several years.  The new structure is about 30 meters wide and 19 meters deep. It has three truck bays, a recreation room, kitchen, men and women's washrooms complete with showers, and an office for fire chief Orland O'Donnell. The building was designed by Sackville architect Martin Patriquin.
Construction on the building was completed at the end of November, and was moved in to on December 8.  While many of the volunteer firefighters are away working, fourteen members were in attendance, including two firefighters-in-training, Austin Kelly and Dallas Underhill.
Photos from the event are below. Click an image to enlarge.