BHS Teacher Receives Technology Award
On Thursday, March 21, Blackville High School teacher Allan Carter received the Marjorie Sinclair Award for Commitment to Technology in Learning at the 2013 Anglophone North School District CUTE Awards.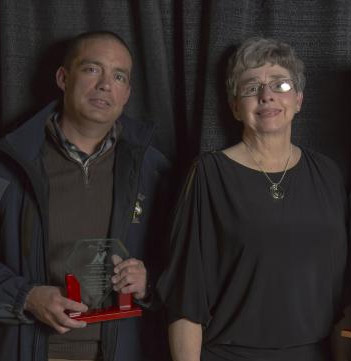 The CUTE Awards (Creative Use of Technology in Education) is an event that was conceptualized to recognize and encourage the creative use of technology by students and teachers in classrooms. Over the years, the awards have evolved to reflect the changing learning environments that teachers are nurturing.
Mr. Carter was presented the award by Marjorie Sinclair at the James M. Hill High School in Miramichi.
Also nominated at the CUTE Awards were "On Second Thought" by students in Journalism & Media Studies 120 in the Video Documentation category and "Recalling the Past" by Allan Carter, Les McLaughlin and Writing 110 students in the 21st Century Learning – High School category.
Congratulations to Mr. Carter and all the nominees.  For more information about the CUTE Awards, visit their website at www.asd-n.nbed.nb.ca