BHS Raises $1300 for Cancer Research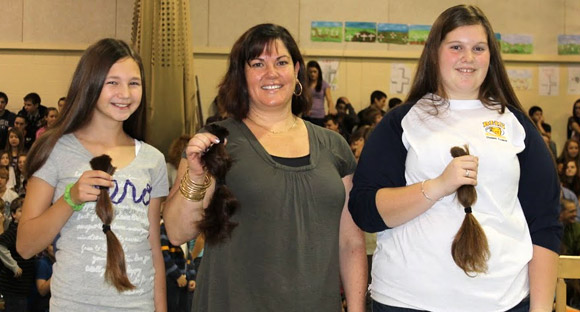 BHS students and staff have raised $1300 for cancer research. As part of their fundraising efforts, a school-wide penny drive was held and $800.00 was raised.  The remaining $500 was raised during a Walk for Cancer that was held in October.
On November 19, the school body held an assembly to celebrate their fundraising success and to watch as two students and a teacher cut their hair to donate to the Canadian Cancer Society.
Middle school teacher Madame Michelle Tobin-Forgrave, grade 12 Student Council President Marissa Donohue, and grade 7 student Abby Donovan all donated some of their hair. Their donation will be used to make wigs for patients who lose their hair as the result of cancer treatment.
For more photos from the assembly, click here.
To find out how you can help in the fight against cancer, visit the Canadian Cancer Society website at cancer.ca.
Original story available on the Blackville Talon school newspaper website.