Back in 2006 I was involved in a project that's goal was to pay tribute to the local men and women who served our country during times of war.  The project, which was a book called Remembering Our Veterans, was a joint venture between the Blackville Access Centre and members of the community.  One of those members was Ella Curtis.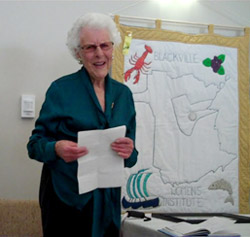 Of all my memories of the nine months we spent working on that book, the ones I recall most were between Ted Walls and Ella. I learned a lot watching their friendly banter – both had very strong personalities and both were extremely proud of their roles in the Canadian Forces and in the community which they lived and loved. My interest in preserving our local history was greatly influenced by them.
Since that time, Ella and I have stayed in touch and I consider her a friend.  She is truly one of a kind.
Whenever I need clarification on anything history related, Ella is always there. On my last visit with her, we spent hours talking about Blackville.  Her knowledge of our community far exceeds that of any other source.  She can tell you everything from all the local musicians that our village has ever produced to the names of every business that has ever called Blackville home.  She is as wise as she is lovely.
Today, February 22, Ella turns 91 years old… another year older, but more importantly, another year wiser.