Wounded and in hospital on V.E. Day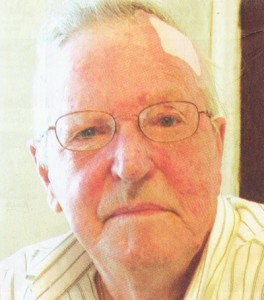 By Reginald Price
My name is Reginald Elbridge Price and I am a World War II veteran who served with both the Victoria Rifles and the North Shore (N.B.) Regiment.  I was born on March 14, 1922 in McNamee (O'Donnelltown), N.B., the son of Everett Price and Agnes O'Donnell.  I married Emma Nicholson and we had one child, Blaine Price.
I enlisted in Fredericton in January, 1942 and was posted to Woodstock, N.B. for basic training.  I was assigned to the Victoria Rifles and shipped to Niagara-on-the-Lake, Ontario for training.  Eventually I ended up in Debert, N.S. and served as a driver while waiting to be shipped to England, I think in 1944.  I boarded a troop ship in Halifax and landed in England and was sent directly to Camp Aldershot.
Over time, I ended up as a reinforcement to the North Shore (N.B.) Regiment and was in Support Company for awhile and then ended up in C Company.  Somewhere in Germany, I was assigned as a C Company driver.  While driving my jeep I was hit by either a shell or I drove over a mine.  Since I was in the jeep and badly wounded, I really do not know all the details on how I got hit.  I am putting together the story based on what others told me had happened.  What I do know for sure is that after the jeep was blown up, I had a bad head injury, a broken arm and my left side was hit.  It was in April 1945.  I was transported back to England and ended up at a military hospital in Basingstoke, England.
I was in Basingstoke Hospital on V.E. Day.  The hospital staff came in and told me that the war was over.  I was in Basingstoke from April to July, 1945.  On July 10, 1945 I left England aboard a hospital ship and landed in Halifax.  I was transported to the military hospital in Sussex, N.B., but was shortly after transferred to Sainte-Anne de Bellevue, Quebec, just west of Montreal.  I remained in Sainte-Anne de Bellevue hospital until November 1945.  I was given a 42 day pass and I went home to Blackville to celebrate Christmas '45 and New Year's '46 with my family.  I was discharged in January, 1946 in Fredericton with the rank of private.  I worked for a brief time at the Renous Ammunition Depot but was laid off because I just couldn't do the work.  I have been on a military pension since 1946.
Mr. Reginald Price passed away the evening of Monday, December 17, 2012 at the Miramichi Regional Hospital at the age of 90.