Served as a Cook at PPCLI Barracks in Calgary
By Aubrey T. Buggie
My name is Aubrey Thomas Buggie. I was born August 29, 1928 in Renous, New Brunswick, the son of Daniel Buggie and Mary Donovan. I married Delcia Brideau and we have six daughters: Germain, Dianne, Colleen, Linda, Audrey and Cynthia.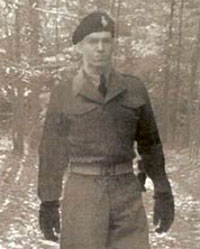 I was cooking at the Lord Beaverbrook Hotel in Fredericton just before I enlisted. I enlisted in August 1950 in Fredericton at the No. 2 Personnel Depot. When the Korean War started lots of the lads were joining up so I decided to join as well. I had five brothers that served during World War II and I wanted to do my part.
I was sent to Camp Petawawa, Ontario for my basic training until October 1950. In November 1950, I was transferred to the 2nd Battalion, Princess Patricia's Canadian Light Infantry at Currie Barracks in Calgary, Alberta.  I was made cook at the Officers Mess for the PPCLI.  I never got out of Currie Barracks and remained there until December 1951.  I was discharged in December 1951 in Fredericton, New Brunswick.
After I got out I had a civilian job cooking at the Officers Mess in Goose Bay, Labrador. Between 1962 and 1977, I was employed at the Renous Ammunition Depot. I then worked at the government garage in Renous and retired in 1992.
Aubrey Buggie passed away Sunday morning December 31, 2017 at the age of 89.