Arthur Dunphy Biography
By Colton Connors and Cleve Morehouse

The following is a biography of Arthur Dunphy's air force career and his early life.
Arthur Victor Dunphy was born May 14, 1916. A man that has lived his life, saw drastic changes and saw and experienced the worst; a man who fought for his country in World War II. He has children, grandchildren, great grandchildren and great great grandchildren. One of those people who have the respect of a king and the knowledge of a history book. This is a biography on Arthur Dunphy of Upper Blackville.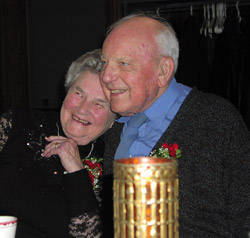 Arthur Dunphy was born in Upper Blackville, NB on May 14th, 1916. He was raised in the same place. He went to school and he also attended university.
"During the 1930's money was not very plentiful and even for people who had jobs the wages were also low so I decided I would discontinue university and instead I would go to work for a few years and try and save enough money so I could attend the American School where I could study academics as well as aviation. That plan didn't work either".
Arthur had his future set on becoming a pilot; he began his aviation in his early twenties. "As WWII began it also brought the end to the depression which had existed since 1929. Young people became very excited about getting involved in Military life".
On October 16, 1940, Arthur's air force career began, with training still left to do before war:
"After a few weeks at Manning Depot I was sent to a training school at St Thomas, Ontario for a course in Aero Engine Mechanics. The course was several months long and by the end of May 1941 I had completed the course and was posted to a flying training school at Calgary, Alberta where I worked at maintaining the serviceability of Training Aircraft".
By September 1943 Arthur was ready for battle against the enemy. He and six others were posted to 148 RAF Squadron in North Africa. Their job was to supply the Underground Movement in Europe with personnel, ammunition, clothing and what ever else was required.
"No more operational flying was required of us so they disbanded and went their various ways."
Arthur returned to Canada in October 1944 and married a lovely girlfriend from their younger days, Dorthy. "In January 1945 I was now working at a Training Base at Abbotsford B.C. where aircrews were preparing for the Pacific War." His new bride came to Abbotsford with him where they remained until the hostilities ceased after which he was dismissed from the R.C.A.F. in September 1945.
Afterwards he moved back to his hometown of Upper Blackville, N.B. He and his wife settled down and had four children.
Information was taken from Arthur's blog, which can be found at http://artiersworld.blogspot.ca/2008/04/my-aviation-interest.html
UPDATE: September 6, 2014
Mr. Arthur Victor Dunphy, husband of Dorothy (Bamford) Dunphy, passed away at the Miramichi Regional Hospital on Saturday, September 06, 2014 at the age of 98.
Born in Upper Blackville, NB, he was the son of the late Victor and Myrtle Dunphy.  He was a retired business man, a member of the Upper Blackville United Baptist Church, church organist, Avid Pilot and a WWII veteran overseas Squadron 148 Leader and received the DFC (Distinguished Flying Cross).
He is survived by his wife, Dorothy.; his daughter, Brenda Joyce Lytle of Beaver, Pennsylvania, US: his sons, Barry Simmons (Barbara) of Burlington, ON, Victor William (Heather) of Fredericton, NB and Alvin John of Moncton, NB; his 8 grandchildren and 10 great-grandchildren.
Besides his parents, he was predeceased by his daughter, Cynthia and his brother Alvin.
Mr. Arthur Victor Dunphy is resting at Davidson's Home, 597 Old King George Hwy, with visitation on Tuesday from 2-4 and 7-9.  Funeral service will be held on Wednesday at 2 pm at Davidson's Funeral Home Chapel with Pastor Paul Inman and Rev. Weaver Amos officiating. Burial will be in the Upper Blackville Baptist Church Cemetery at a later date.
In lieu of flowers, donations to the Upper Blackville United Baptist Church or the Canadian Bible Society would be appreciated.
Arrangements are in the care of Davidson's Funeral Home, your family-owned, family-operated funeral home.
» Click here to read more stories from Blackville residents