Recalling the Past » Eddie Curtis Interview
By Candace Purcell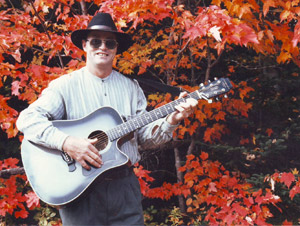 What is your full name?
Edward  Curtis
What is your birth date?
May the 4th 1954
Where were you born? What town, and in a home or a hospital?
I was born on the Miramichi in a home.
Can you tell me about an event during your school days that stands out to you?
I was going to Blackville school, and I was fourteen years old, and I found two silver dollars in the sand bed and turned them into the teacher.
Did you like school, and what did you like about it?
Well, Let me see now…*laughs*…What did I like about it? I don't know if I ever liked anything about it!
Did you graduate?
No, didn't graduate.
What grade did you complete?
Grade 9.
What did you do for fun when you were a child?
I liked to go swimming in the rivers with my friends and my brothers. We also hauled in the hay and played around in it.
Did you fish or hunt growing up?
Yes, I've been around fishing and hunting my whole life. It's something that I still love to do today.
Can you tell me a hunting or fishing story?
Let me see now… I guided quite a bit. I hooked a lot of fish, caught a lot of fish. A real good guide, I was!  And I hunted, and I got about 47 deer in my life time.
How old were you when you got your first deer?
I was 18.
What kind of work do you do?
I drive a truck.
Are you married? To who?
Yes, I'm married to Emerson Underhill's daughter, Jackie.
How did you meet your partner?
Well I roamed around the roads a little bit, seen her and liked her real well. Put my arm around her, and I asked her if she wanted to go for coffee or hangout sometime. Lucky for me, she said yes and 30 something years down the road we're still together.
Do you have a family? Any children?
Yes, I have three kids. Two boys, and a girl, but they're all grown up now.
Do you have any advice for today's parents trying to raise children?
The important thing is for them to know right from wrong, and don't abuse them. If you do that they'll grow up and turn out the very best!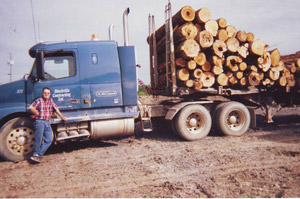 What types of medical services were available to you when you were raising your family? Was medicare like it is today or different?
It was the same.
How were holidays celebrated?
Well, a lot of ways, but the main thing was music. Music is very important to our family.
Do you play any instruments?
The guitar, fiddle, mouth organ, and mandolin.
Do you know anything about your ancestors or your heritage you would like to share?
Well, it was a long time ago for them lads, but they were farmers. And our family comes from Ireland.
What role did religion play in your life? Do you go to church often?
It played a good one. Yes, I try to make it to church.
What is the biggest change you have noticed in our world and society since you were young?
There's a lot more drugs around then there ever used to be, and they're destroying lives.