Get active with Mango this fall at programs offered throughout the Village of Blackville.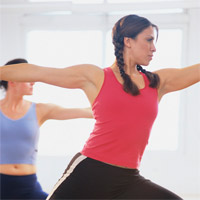 Starting September 10, there will be Aerobic Classes for all ages every Monday and Wednesday at 7:30pm at the Blackville United Church Center. Only $3 per class or $20 for the month! For more information, call Jean at 843-2871, Bev at 843-2854 or email Ken at 1kenmacintosh@gmail.com.
Beginning on September 12, there will be low impact exercise classes with DVD on Wednesday's at 1:00pm at the Blackville United Church Center. Only $2. For more information contact Mary Moody at 843-6329.
Staring October 15th, the Blackville Walking Group welcomes you to meet each night Monday to Friday between 6pm to 8:30pm for FREE indoor walking. For more information contact Lois Grady at 843-2236.
These activities are made possible with the support of the Active Community Grants Program from the Department of Culture, Tourism and Healthy Living of the Province of New Brunswick. Mango is a Horizon Health Network – Miramichi community program focused on increasing healthy eating and physical activity in our region.
Search Memories of Blackville
Blog Archives
Follow us on Twitter