This year on August 5, the village of Blackville will be hosting the first annual Blackville Days celebrations. The ingoing municipal council, as well as the newly formed Blackville Days committee feels it is necessary to celebrate our humble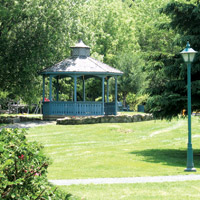 community, offering an event for residents to gather, relax, and enjoy some family entertainment.
This year's Blackville Days celebrations will consists of a one-day family day concept. The itinerary of events will consist of the following:
7am – 11am: Breakfast Hosted at the Father A.A. McKinnon Hall
2pm – 5pm: "Family Day" hosted at the Blackville Municipal Park
Live Entertainment, Washer Toss Tournament, Inflatable Games, Dunk Tank, BBQ
This years celebrations will also consist of the recognition of some of our communities unsung hero's, through the awarding of our own "Blackville Community Merit Awards". This is an honor award to members of our community that volunteer their time to various community events and operations.
Our community is one that deserves to be celebrated. Our unique combination of spirit, hospitality, and support gives a living experience to be proud of in our community. Please join us on August 5 in our attempt to celebrate this fine village, and the residents that make it such a wonderful place to live. Remember always that as a community Blackville is famous for our river, but remembered for our people!
Search Memories of Blackville
Blog Archives
Follow us on Twitter