This Saturday, October 20, a Fall and Christmas Craft Sale will be held at Trinity Hall in Blackville from 9:00am to 1:00pm.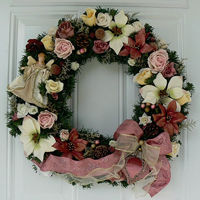 Proceeds from the table rentals, which are fully booked, and donations at the door will go to the Greater Blackville Resource Center to support the community food bank.
Admission will be either a non-perishable food item for the food bank or a cash donation of choice. Support the Blackville Food Bank and start your Christmas shopping early.
Items for sale include gemstone jewellery, paintings, candles, hand-made cards, Christmas wreaths, centerpieces and ornaments, Fall and Halloween crafts, sweater mitts, scrapbooking supplies, Tupperware, baked goods and much more!
For more information about the Greater Blackville Resource Center, visit their Facebook page at http://www.facebook.com/BlackvilleResourceCentre
Search Memories of Blackville
Blog Archives
Follow us on Twitter