The Village of Blackville has a full weekend of events planned to celebrate Canada's birthday! It all begins Saturday, June 30 with the Blackville Splashdown. The Volunteer Fire Department will once again be hosting this annual canoe run that begins at the Mouth of the Cains River and ends at Blackville Park. A halfway barbeque will be held at McKenzie Brook along the way. Registration will be held prior to the run at the starting point, along with poker hands being sold.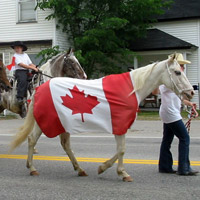 Prizes will be given for the best hand and random draws will be held.
The Annual Canada Day fireworks, the best fireworks display on the river, will be held on Saturday evening at dusk in the village park. Sister Karaoke will be providing live entertainment from 8:00pm to 10:00pm. The Knights of Columbus will host a barbeque throughout the evening. Bring your own lawn chair or blanket. For your safety, no vehicles are permitted inside the park after 6:00pm.
The Canada Day Breakfast will be held on Sunday, July 1 at Father AA McKinnon Hall from 7:00 am – 11:00 am.  Bacon, eggs, toast, hash-browns, tea, coffee and juice will be served. The cost is $5 for adults and $3 for children.
The Canada Day Parade will be held on Sunday afternoon at 4:30pm.  Lineup begins at 3:30pm at Busy Tots Daycare. The parade will travel up Main Street, turn left on to Station Street, proceed down Digby Street and continue back to Blackville Municipal Park.  Immediately following the parade, there will be live entertainment by Amy & Friends, as well as a jumping castle, barbeque, cotton candy and cake.
Be sure to come out and enjoy the weekend events and show your national pride!
Search Memories of Blackville
Blog Archives
Follow us on Twitter