Browsing all articles in Awards
On Thursday, March 21, Blackville High School teacher Allan Carter received the Marjorie Sinclair Award for Commitment to Technology in Learning at the 2013 Anglophone North School District CUTE Awards.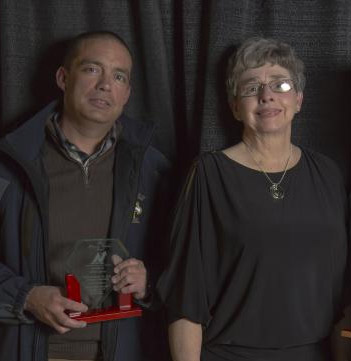 The CUTE Awards (Creative Use of Technology in Education) is an event that was conceptualized to recognize and encourage the creative use of technology by students and teachers in classrooms. Over the years, the awards have evolved to reflect the changing learning environments that teachers are nurturing.
Mr. Carter was presented the award by Marjorie Sinclair at the James M. Hill High School in Miramichi.
Also nominated at the CUTE Awards were "On Second Thought" by students in Journalism & Media Studies 120 in the Video Documentation category and "Recalling the Past" by Allan Carter, Les McLaughlin and Writing 110 students in the 21st Century Learning – High School category.
Congratulations to Mr. Carter and all the nominees.  For more information about the CUTE Awards, visit their website at www.asd-n.nbed.nb.ca
The mayor and council of the Village of Blackville are recognizing some of our community's unsung heroes, through the awarding of our own "Blackville Community Merit Awards". This is an honor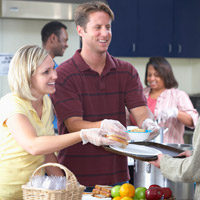 award to members of our community that volunteer their time to various community events and operations.
A full list of criteria for the award, as well an application form for the award is available at the Blackville Municipal office, and can also be accessed online at the village of Blackville website: www.villageofblackville.com.
If you know of anyone you feel deserves to be honored with this award, and meets the listed criteria, please complete the application form and have it turned into the Blackville municipal office by July 31 at 4:00 pm.  Awards will be presented at the First Annual Blackville Days celebrations on August 5, 2012.
Blackville resident and musician Amy Jardine, who is known for his countless volunteer hours playing at fundraisers, recently received the Diamond Jubilee Medal.  The special award medal was presented to Mr. Jardine by New Brunswick Premier David Alward at Nine Pine Lounge in Blackville on Thursday, June 14.
Amy is one of 60,000 deserving Canadians who have been or will be recognized during celebrations across the country this year.
The commemorative medal was created to mark the 2012 celebrations of the 60th anniversary of Her Majesty Queen Elizabeth II's accession to the Throne as Queen of Canada. The Queen Elizabeth II Diamond Jubilee Medal is a tangible way for Canada to honour Her Majesty for her service to this country. At the same time, it serves to honour significant contributions and achievements by Canadians.
Click an image below to enlarge.  Photos provided by Jake Stewart.
Saint Raphael's Roman Catholic Church in Blackville is pleased to announce that parishioner Marion Fogan will be receiving her Life Membership in the Catholic Women's League.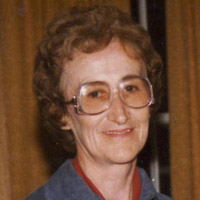 Marion will be receiving her award at the Diocese of Saint John's Catholic Women's League Annual Convention being held in Fredericton on May 5, 2012. Marion, who is currently President-Elect in the Provincial CWL, is the first Saint Raphael's parishioner to receive this award.
Marion has been actively involved with St. Raphael's Church as a religious education teacher for thirty-two years, lector at Mass, and has assisted in various other capacities. She joined the CWL in 1964, where she was president of her council many times over. She has also served as President of the Saint John Diocesan Council, Recording Secretary, and in most chairperson positions at the Parish and Diocesan level as well as being Education, Communication, and Spiritual Chairperson at the Provincial level. She will become president in June 2012.
Jerry Stafford, owner of Main Street ValuFoods, was recently presented with a Community Service Award from the Province of New Brunswick.  Mr. Stafford is well known in the community and has a longstanding reputation as a generous supporter of local organizations and causes.
His 50/50 charitable foundation has become a prime instrument for helping numerous organizations, not only in Blackville, but also in the neighbouring communities of Renous and Doaktown.
Most recently, Mr. Stafford's 50/50 foundation donated $10,000 towards the creation of a local skateboard park.  Jake Stewart, the MLA for Southwest Miramichi, praised Jerry for his dedication to the community and his generosity, describing him as a businessman who sets a Class "A" example for others to follow.

Source: ValuFoods
Search Memories of Blackville
Follow us on Twitter