Browsing all articles in Blog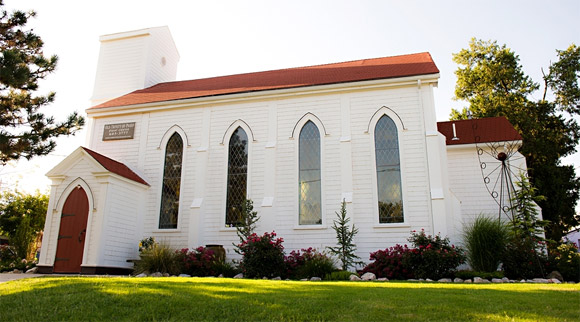 How did an old country church from Blackville become known as the oldest chapel in Oklahoma?
Old Trinity Anglican Church was built in 1842 in Blackville, New Brunswick. Constructed in the Gothic Revival Style, it was complete with pointed arched windows and doors serving the community continuously for more than a century.
A new church, Holy Trinity, was built in the village in 1970 to meet the needs of the growing population. Old Trinity was still used for memorial services.
In 1991, the Canadian government declared Old Trinity a provincial historic site. However, time and weather took its toll on the little church and the original bell tower began to pull away from the main body. The building was deconsecrated in 1997 and dismantled by Renovator's Resources, a Halifax based company that salvages old buildings.
Tom Lee, photographer and entrepreneur, discovered Old Trinity on the internet and bought it sight unseen. Soon Old Trinity found a new life, arriving in the Paseo Art District in Oklahoma City in November 2000. The two flatbed trucks carried 17 wall sections, 2 entries, 3 gables, 8 original stained glass windows, and 6 gothic doors. These pieces were reassembled to give new life to the old church in 7 months. Only the original bell tower did not survive and was replaced to complete the original exterior.
?
The truck drivers who delivered Old Trinity reported that their great grandfather had donated the land upon which the church had been originally built. The land where it now resides also had never been built on. Father Dale Petley of All Souls Episcopal Church in Oklahoma City began his ministry at Old Trinity in Blackville in 1982 and was present at the completion of the church. Old Trinity faced east-west in Canada and was rebuilt to face east-west in Oklahoma City. Some things are meant to be.
In October of 2007, Tom Lee had to sell his beloved Old Trinity to pay for his ongoing medical expenses. A friend in the neighborhood bought Old Trinity.  The church is now used as a wedding chapel, Simply Sisters Weddings, operated by Amy and Sara McCord.
On Thursday, March 21, Blackville High School teacher Allan Carter received the Marjorie Sinclair Award for Commitment to Technology in Learning at the 2013 Anglophone North School District CUTE Awards.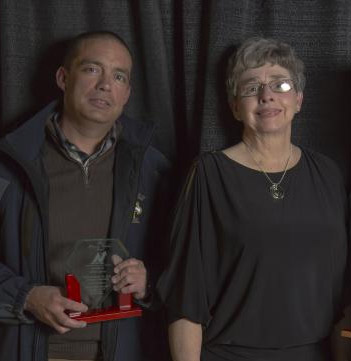 The CUTE Awards (Creative Use of Technology in Education) is an event that was conceptualized to recognize and encourage the creative use of technology by students and teachers in classrooms. Over the years, the awards have evolved to reflect the changing learning environments that teachers are nurturing.
Mr. Carter was presented the award by Marjorie Sinclair at the James M. Hill High School in Miramichi.
Also nominated at the CUTE Awards were "On Second Thought" by students in Journalism & Media Studies 120 in the Video Documentation category and "Recalling the Past" by Allan Carter, Les McLaughlin and Writing 110 students in the 21st Century Learning – High School category.
Congratulations to Mr. Carter and all the nominees.  For more information about the CUTE Awards, visit their website at www.asd-n.nbed.nb.ca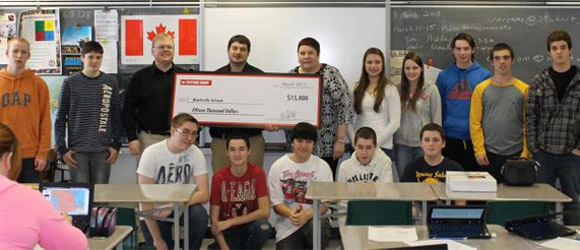 Blackville School was recently selected as one of twelve schools across Canada to receive funds in the 2013 Future Generation Tech Lab program.
Sponsored by Future Shop, Blackville School received $15,000 which will allow the school to purchase more equipment that can be used for podcasting, video production, online publishing, photography, interviewing and writing.
The equipment will be used mainly for Journalism 120 and Media Studies 120, but will also be available for students to use in other courses when the technology is required to complete assignments.
The equipment that will be purchased includes updated computers, software and digital cameras.
On Monday, March 11, representatives from Future Shop along with Anglophone North District Superintendent Nancy Boucher were present at the school for the cheque presentation ceremony.
Outdoor skating has always played an important role as a winter pastime and social activity in the village of Blackville.  Besides being a source of great joy and excitement for young skaters, more and more adults are taking to the ice to stay active during the cold winter months. The Blackville Outdoor Rink, located at 37 Alcorn Drive, is now open 7 days a week from 8:30am to 8:30pm, weather permitting, with the canteen available during peak hours. During the summer months, the rink is used as a skate park.
Operated by the Blackville Recreation Council, the rink has been a great success due in part to the assistance of community volunteers who help maintain the ice surface and premises.
"There are so many ways to participate in your community but the power of volunteers is the basis to the success of our outdoor rink!" volunteer Wendy Fortune continues, "Without our hard working volunteers, we would never be able to enjoy the short window of opportunity that our Canadian winters offer!"
Friday nights have proved especially popular with youth as the rink offers free public skating between 6:00pm and 8:30pm, as well as on Sunday afternoons from 1:00pm to 4:00pm.  The remainder of the week, ice times are divided between public skating and drop-in hockey.  The full schedule can be viewed at http://www.villageofblackville.com/blackville_rink.html. The cost of admission is $2 per day.
The rink is also available for rentals for birthday parties, special events and for groups and clubs.
Blackville's first official rink was built by Simon Bean in 1910 at the bottom of Lockstead Hill. The closed-in rink was a popular gathering place, where villagers enjoyed countless hours of skating and watching hockey games. Bands from Newcastle would arrive on the Whooper Train and entertain the crowds. On Christmas Eve in 1914, the rink was destroyed by fire. Until the current outdoor rink was built, villagers shovelled off the millpond for skating and playing hockey and also enjoyed Mr. Morgan's Public Rink that was located at the Anglican Church Hall.
Blackville Recreation Council Vice President Ian Fortune hopes more people will come out and enjoy the great ice surface the Blackville rink offers and make new memories in the process.
"Remember the times in your youth when you chased your crush around the outdoor rink? Get out there and revive those memories. Perhaps bring the family to watch you having fun and exercising at the same time. The ice is perfect and could be gone so fast. Weather changes quickly but memories last forever."
For more information about the Outdoor Rink, please contact Ian Fortune at 843-2220 and visit their Facebook group at http://www.facebook.com/groups/406853629399169/.
UPDATE: Due to a death in the community, the scheduled Town Hall Meeting for January 21 in Blackville has been postponed until further notice.
____________________________________________
On behalf of the Blackville Village Council, we want to take this opportunity to wish you all the best as we begin 2013. The last seven months have been interesting and somewhat of a learning curve for three of the four members on council having taken on new job roles in Municipal Affairs.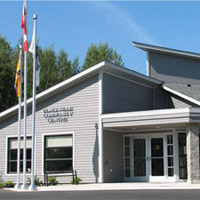 The purpose of this newsletter is to bring you up to date on some upcoming issues for our village. We wish to host a "Town Hall" style meeting to discuss issues that we have been grappling with over the past couple of months. The meeting is set for the evening of Monday, January 21st at 7pm at the Municipal Office. The first 40 minutes (approximately) will deal with our park. Dr. Chris Ashton will be on hand to answer questions regarding their work and suggestions. The next 40 minutes (approximately) will be devoted to the sewer lagoon upgrades. Pierre Plourde of Crandall Engineering in Moncton will be present to review that process. We then want to hear your thoughts on our work regarding fire hall upgrades and how best to proceed.
We are pleased to inform you that the existing tax rate of $1.30 will be maintained for the taxation year 2013. That does not mean that your tax bill may not go up slightly, because the provincial cap on assessments has been removed; andtherefore we expect property taxes to increase by 3.95%.
As the result of the provincial government making changes to the unconditional grant formula, the Village of Blackville will see an increase of approximately $39,000. It is our hope that we will be able to run a surplus in the reserve account so it might be put to future upgrades. We have spent $27,000.00 this past summer in street repairs. The streets involved were Alcorn Drive, Station Street along with the culverts at the school, and the road to the lagoon. This coming summer we intend to make repairs with the curbing in front of MacRae Insurance and Curtis Miramichi Outfitters. This will facilitate a better traffic flow for these two businesses. Although we engaged a bush cutter for our ditches this summer, it is obvious that a bigger piece of equipment will be needed, since it has been sometime since this work was overhauled. We expect this to be a pricey venture, but one which is in great need to complete.
Part of the reason we would like to be able to end each year with a reserve is the fact that Federal and Provincial programs come a long that require each branch of government financing one third of the cost. If we are not ready for such opportunities, we must borrow and we would sooner not go down that path, if at all possible.
Another major ticket item that requires our attention is the purchase of a new fire truck. The oldest truck is 30 years old and parts are hard to come by, and practically impossible. A new truck will cost close to $300,000. This cost is shared with the LSD of the Parish of Blackville with our share being approximately 47%. As was previously announced, the DNR building will be closing in Blackville. We are presently reviewing the option of purchasing that building, and with some upgrades making it our fire hall. A new fire hall would cost from 800 thousand to a million dollars and there is no outside funding for such ventures.
The next item involves upgrades to our sewer lagoon. The Department of Environment informed the village in 2009 that by 2015 upgrades would be needed because the Effluent Discharge Rates do not meettoday's standards. The lagoon will be 30 years old in 2013. Basically, the lagoon breaks down the sludge by wind currents and sunshine. However, when it is frozen over in the winter months, it cannot meet the new standards. We have been in consultations with Crandall Engineering and they inform us that it would take a year of testing to determine the exact work that will need to be done. That cost will be in the neighbourhood of $33,600.00. The work required after the study, would, in all probability, involve building the berm around the lagoon higher and installingaerators. These facilities will require electricity to operate and will need to be monitored everyday resulting in higher costs to us, the tax payers. The estimated cost alone of the electricity is from 12-15 thousand dollars. We anticipate that the cost of the upgrade would cost between $800,000.00 to 1.2 million. This project would be cost shared by three levels of government at a third each. Since there will be ongoing costs, council has voted to increase the sewer bill from $125 to $150 for the year 2013. No one likes to see increases, and your council is no different. However, the cost to meet today's needs and standards is not cheap. We cannot make a prediction on where the rate may need to go in the future until we know the extent of the work to be done. This rate has remained relatively unchanged in 30 years, except for a drop for a couple of years to $35.
The new rate is still well below the rate in other communities. Some examples are; Doaktown $400, Chipman $310 and Rexton $173.
We have had a study of our park done by HFHG Consulting Inc. in Grand Falls. While Blackville Park was created in large part through the efforts of volunteers, the new study is geared to optimize the Park in terms of beauty upgrades, increase the recreational possibilities, and provide infrastructure needed to promote longer stays in the region through entertainment, dining and gathering opportunities.
Our council feels strongly about offering you the opportunity to give your input about where we want to go as a community. We want to keep you better informed as to what your council is working on,and if you feel we are going in the right direction.

Together, we can make our community a place that we can all be proud to call home. Look forward to seeing you on Monday January 21 at 7pm.
Search Memories of Blackville
Blog Archives
Follow us on Twitter