The Dungarvon ATV Club will be hosting a fundraising run on Saturday, July 21 to support the new Greater Blackville Resource Center.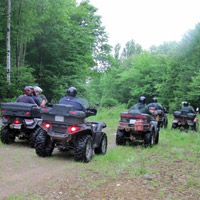 Registration will be from 8:00 am to 10:00 am at the Dungarvon Whooper Lounge at a cost of $5.00 and a non perishable food item for the center's food bank.
There will be a halfway point BBQ. The route will be approx. 70 miles in length with varying terrain on the back trails of Cains River. A 10:00 am departure should make for a 5:00 pm return. All donations benefit the Resource Center.
For more information, call Ian at 625-3908 and visit the Dungarvon ATV Club website at www.dungarvonatvclub.webs.com.
Search Memories of Blackville
Blog Archives
Follow us on Twitter