Browsing all articles from June, 2012
Blackville resident and musician Amy Jardine, who is known for his countless volunteer hours playing at fundraisers, recently received the Diamond Jubilee Medal.  The special award medal was presented to Mr. Jardine by New Brunswick Premier David Alward at Nine Pine Lounge in Blackville on Thursday, June 14.
Amy is one of 60,000 deserving Canadians who have been or will be recognized during celebrations across the country this year.
The commemorative medal was created to mark the 2012 celebrations of the 60th anniversary of Her Majesty Queen Elizabeth II's accession to the Throne as Queen of Canada. The Queen Elizabeth II Diamond Jubilee Medal is a tangible way for Canada to honour Her Majesty for her service to this country. At the same time, it serves to honour significant contributions and achievements by Canadians.
Click an image below to enlarge.  Photos provided by Jake Stewart.
Alex Fiander, a student at Blackville School, worked on a school project on the history of Blackville. As part of the project, Alex interviewed some local residents on their memories of Blackville.
Watch his video below:
Deputy Premier and Minister the Hon. Paul Robichaud stopped by the Blackville Outdoor Rink Facility recently to meet Rec. Council President Ian Fortune, newly elected Mayor Hal Muck and Councilor Matt Sturgeon, and to visualize the investment made in partnership with the Municipal Council.
The Minister supported me and the community in securing $44,400 of RDC funding to go toward the plan to provide a serious upgrade to the rink building. It was ironic that we stopped in Blackville to view an investment in the Blackville Rink while on our way to announce major funding to the Renous Arena, and it was just last summer that an announcement in Doaktown was made that would provide upgrades to the Doaktown Arena.
It's a proud moment to have played a significant role in helping the communities of Doaktown, Blackville and Renous in providing much needed upgrades to three of our most important recreational facilities in Southwest Miramichi. Thank you to those of you who worked so hard to see all of these projects become a reality,
Jake Stewart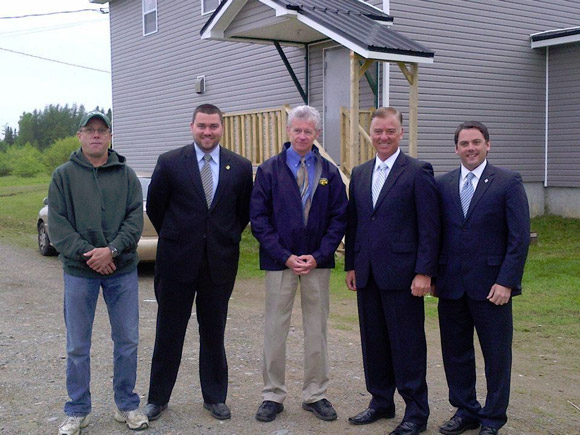 Ian Fortune, Matthew Sturgeon, Hal Muck, Hon. Paul Robichaud, MLA Jake Stewart at Blackville Outdoor Rink Facility
Search Memories of Blackville
Blog Archives
Follow us on Twitter